A chat with the chefs of Funky Gourmet about cooking, tradition and creativity.
Funky Gourmet is a modern restaurant in Athens with an avant-garde, innovative cuisine that is based on seasonal ingredients, emphasizing on refined flavors and the use of advanced culinary techniques. The chefs' perspective of regarding cooking as an art form results in carefully designed degustation menus that have their origins in classical Greek recipes but are also contemporary in style. The restaurant is located in a neoclassical building in Keramikos, in the heart of Athens, and is run by Argyro Hiliadaki and chefs Georgianna Hiliadaki and Nick Roussos. Established in 2009, Funky Gourmet was awarded its first Michelin seat in 2012 and only recently (2014) received its second, making it part of the remarkable club of two-starred restaurants in the world.


The new, avant-garde Greek cuisine has – according to many – been developed using new techniques and forms, which are however based on traditional Greek elements and motifs. Do you agree with that opinion? If yes, what would you say those are? Yes! Raw materials are the main source of inspiration for forming the avant-garde Greek cuisine, along with the memories of the food we would eat as we were growing up, the flavors and scents, all given through a modern and innovative perspective, where food is seen as a form of art.
Greek cuisine has a unique reputation worldwide, mostly based on traditional labels ('Horiatiki salad – Moussakas – Souvlaki'). Where do you think should attention be drawn to in order to further promote the new Greek cuisine abroad? It's important to highlight Greek products that are unique due to the particular climate of our country; for example, a red mullet fished in the Aegean is much tastier than one fished in Senegal.
How important do you consider food in order for someone to get to know a place, its culture and its people? Do you believe that – presenting a similar menu – Funky Gourmet could be located in another country? It's very important, since food is related to one's upbringing and is also representative of a place's culture. Funky Gourmet could've well be run in another country, providing that the raw materials used to prepare the menu were imported from Greece on a permanent basis.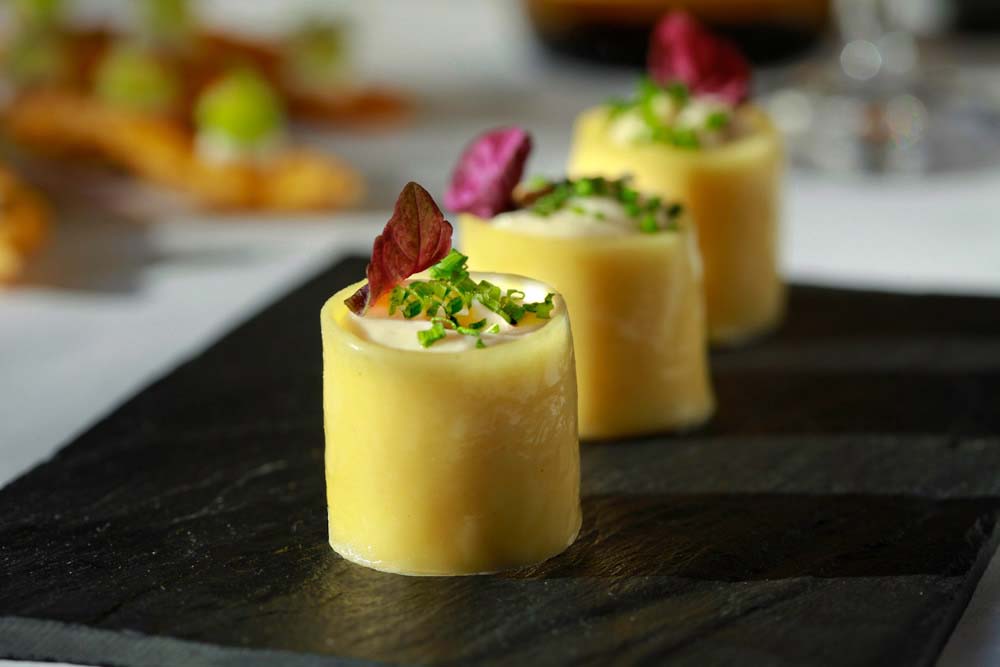 'Pastitsio'
Do you believe that cooking requires grasping the past in order to move forward and become a pioneer? What part of your time to you dedicate to researching and studying and what to developing new techniques? Tradition, along with one's own experiences, are the basis for expressing oneself – and the same applies to chefs. At Funky Gourmet, researching and experimenting, as well as reading and travelling, are integral parts of developing our cuisine and coming up with new plates.
How important do you consider serving food in an appropriate environment, in terms of music, interior design etc.? Was Funky Gourmet designed based on its cuisine? We consider it very important. The interior design of Funky Gourmet is fully attuned to the concept of the restaurant. We communicated our ideas to architect Stelios Kois, who created a minimal and modern space that functions as a canvas, where the plates – like paintings – become the protagonists.
Do you think that one can communicate personal feelings and experiences through cooking (especially at such a level), in a way that e.g. music or painting does? Of course. Cooking for us is a form of art, a means for expressing feelings. It's a gastronomic experience that touches all the senses.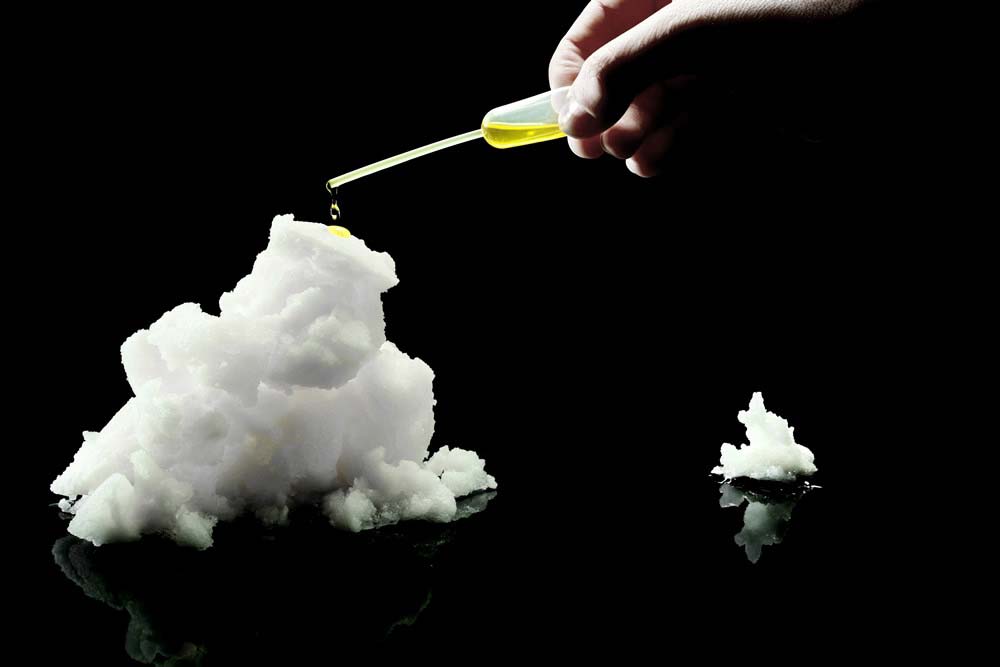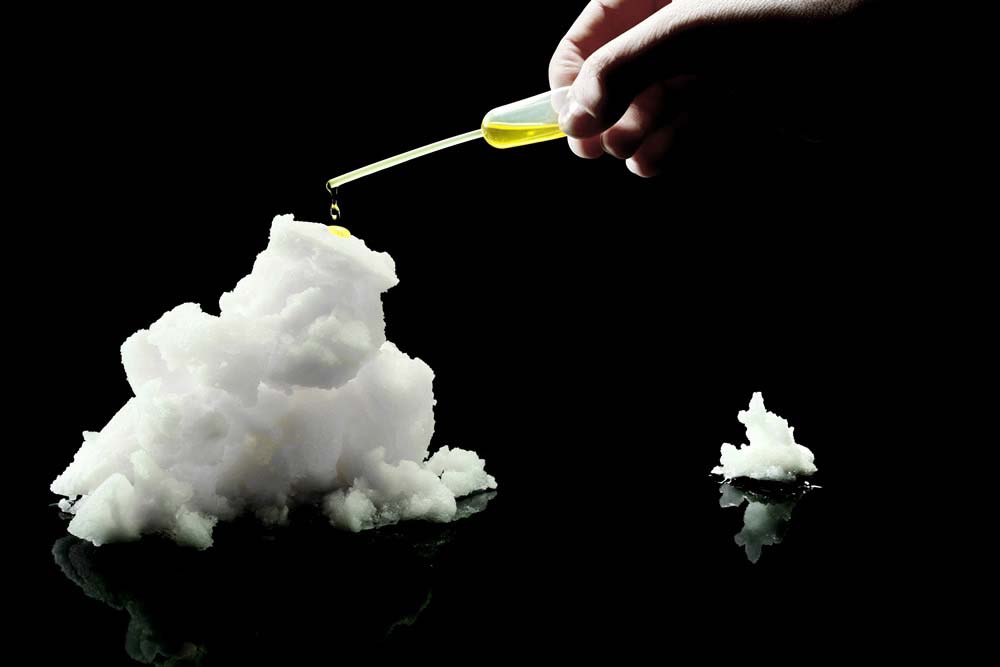 'Horiatiki salad'
Where do you attribute the increased number of TV shows and magazines dedicated to gastronomy in Greece today, and the increased interest on the public's behalf? Gastronomy has definitely become a trend nowadays, further boosted by the use of the internet and the social media, were an image can travel all around the world simply at the click of a button.
How can the strict rules of science be combined with freedom and creativity in cooking? The two are inextricable. Catalan chef Ferran Adrià – one of the greatest of all time – once said: 'In a kitchen, to be anarchic, you have to be organized'. Scientific knowledge and technical know-how shouldn't of course be a goal themselves, but rather a tool in the chef's hands in order for one to express in a creative way what is in mind.
How easy is it for someone to end up doing something so creative, having first followed more classical studies such as yourselves? That's the easy part! The difficult part is to eventually find you own way and what you really enjoy doing.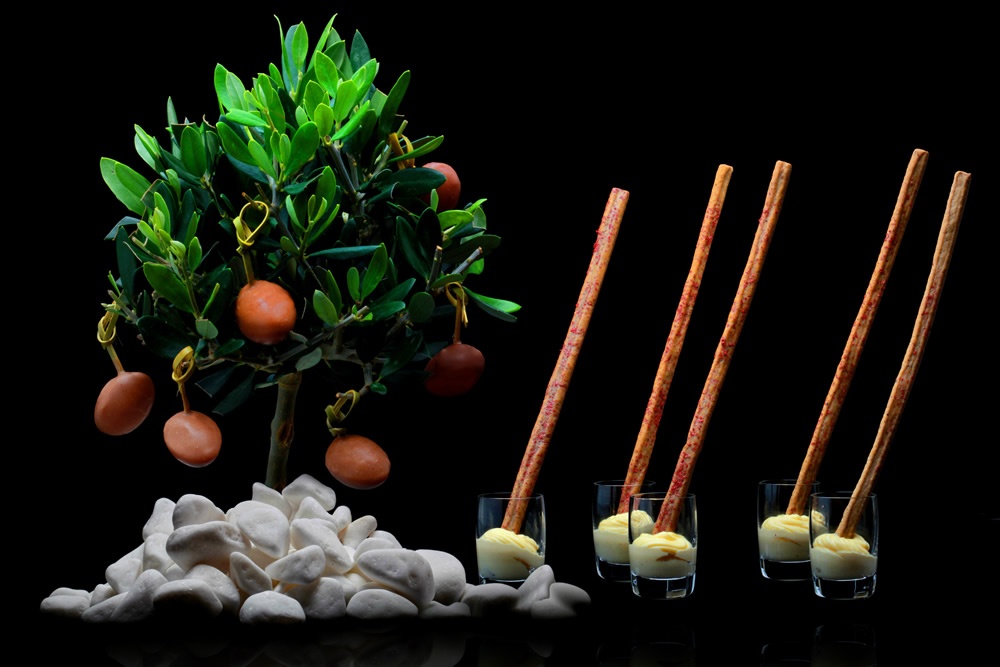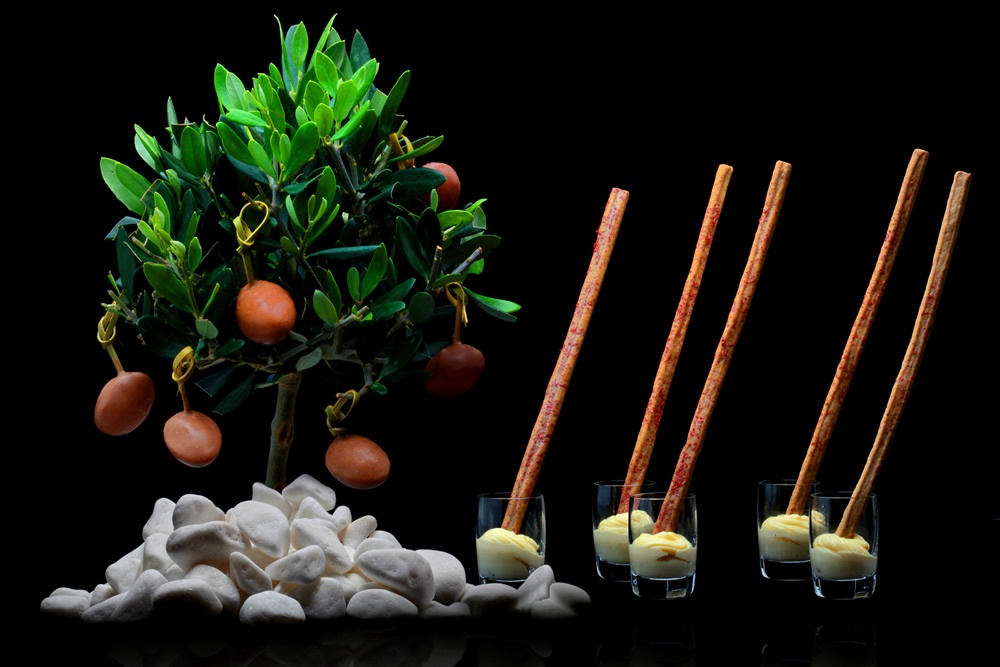 'Bread and Olives'
Food photographer © Beltzinitis Panagiotis
Portrait photographer © Pagalia Ioanna