An interview with Lydia Vousvouni, Head of Design of Zeus + Δione. Lydia Vousvouni was born and raised in Athens, Greece in 1988. She studied fashion design in three universities in the UK and was awarded at the end of her studies for her final collection having been shortlisted by external fashion critics on the best graduate students in the UK and other EU countries. Her work was appointed for the innovation and aesthetic levels and was exhibited in Berlin.
Between 2008 and 2012 she assisted in several designer houses starting from Marios Shcwab and Aquascutum in London and Chloe in Paris where her focus was in draping, patterns and extended research development. She has also worked for Maison Martin Margiela and Loewe in the retailing and merchandising sector.
In 2012 she met D. Kolotoura and M. Grabowski, founders of Zeus+ Δione. Having been highly attracted by the concept and ethos of the brand she returned to Athens where she begun working as the designer of the brand. That has been the biggest challenge as this role requires thorough research on the roots of Greece and the particular techniques of garment creation using local high quality materials.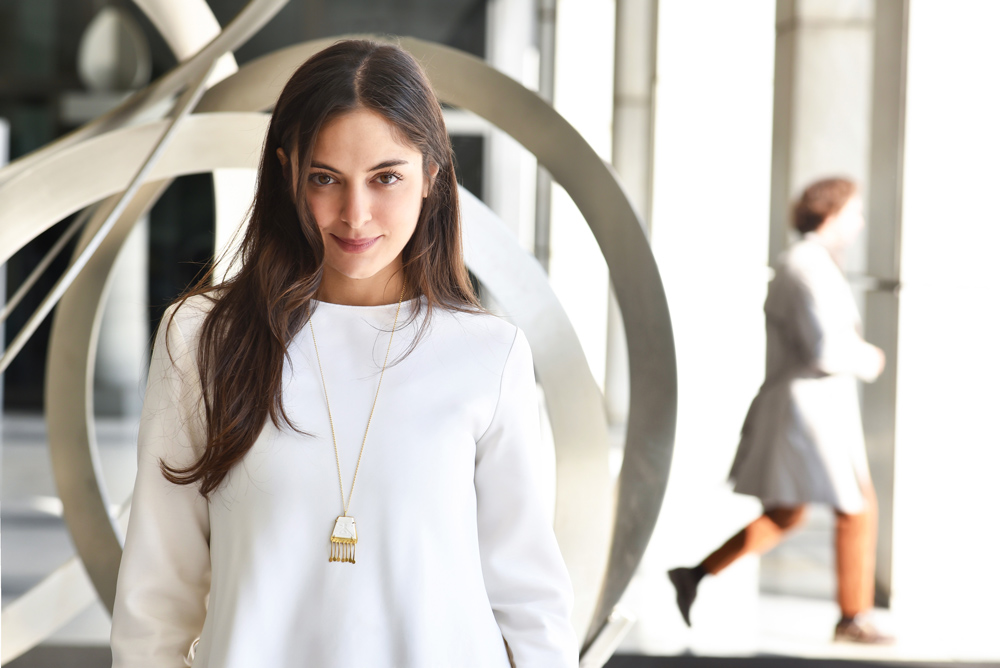 Tell us a few things about yourself.
I grew up dreaming about learning how to make clothes and by reading fashion magazines while collecting ideas that I would find inspirational at the time. To be honest I was obsessed with clothes – not buying them but making them or giving my advice on styling them to my mother back then.
I have always been loyal to this dream of mine and up to now I have never changed route, nor will I ever do.
What are your personal challenges and inspirations?
My main challenge is to continue having this impulse of discovery though thorough research that I have always had. Curiosity is the key to personal evolvement and creativity. In order to continue having new design ideas and avoid repetitiveness, one needs to find quality time within the chaos of everyday life and explore new things. My personal inspirations lie between travelling, observing architectural forms and shapes, studying the construction of folkloric costumes and most importantly experiencing the landscape and light of Greece.
Where do the ideas come from? Where do you find the elements that go into the design?
Narrative is key for me when it comes to designing and bringing a collection together. Each collection or project that we have produced at Zeus + Δione has a strong title, most of which are related to Greek culture and landscape. So, building around the basic concept of the collection I explore the relative shapes, forms and colors while I put craft on the forefront which is what Zeus + Δione does. Then everything is merged, sometimes deconstructed, reinvented and new design elements are brought into life.
What does luxury mean to you? How have you seen the appetite for luxury casuals change in recent years?
Luxury to me is when aesthetics meet integrity and ethics meets design.
Luxury is when a product has a strong story behind it, a well thought design and packaging and when it is created out of materials that possess their own history and origin while its production process involves people who work in a safe environment. I believe that in recent years there has been a positive shift towards sustainability by new 'luxury' brands. Perhaps even more importantly consumers are more conscious about their products and their production process.
One of Zeus+Δione's primary goals is to put a new spin on age-old manufacturing traditions. What is it exactly that we need to keep alive from this heritage?
Heritage is extremely valuable and that is why it survives in history. To Zeus + Δione heritage needs not only to be recycled but also to inspire innovative ways of design in order to move forward to the future. At the same time, craft has always been innovative and must be endlessly applied in new objects and treated in new ways. There is so much potential in these age-old manufacturing traditions, especially when they are treated with the expertise of new technologies. That to me is the most evocative route into modern. And at Zeus + Δione we have been very loyal at executing that.
How do you manage to create a look that is folkloric without being folksy?
There are many elements in folkloric costumes which are extremely modern like the cut of the garments which is based on pure geometric shapes as well as the allocation of embroideries and other decorative elements. So, by studying this geometry and bringing together a fresh and clean viewpoint, having in mind a woman who is cool and sophisticated, it is inevitable to end up with something folkloric with a modern interpretation rather than folksy.
What quality do you think that Zeus+Δione clothes possess that has made the label stand out of the crowd?
First of all, it is a brand that tells stories which refer to our culture. There is a story behind the name but also behind almost every product and that offers an extra dimension, giving our products a special meaning, which people can associate with.
It is a brand that supports craft, and everything is treated with care and passion.
It has a very clean identity since the very beginning, and it has been loyal to it. Of course, there must always be evolvement but in every step the DNA of the brand is taken into full account and remains visible. Finally, I believe that we have constructed a very specific visual identity. That is both due to the materials we use as we have the luxury to be able to create our own customized fabrics and yarns but also due to the cut and the finish of our products.
If we had to describe your work in 3 words, would it be minimalism, geometry and details?
Interesting to hear. I agree with all three.
Would these words describe your life too?
Yes, at least in the forefront. Behind that, a degree of disorder lurks.
Fabrics. Is this the most important aspect for the design process?
Fabrics can be the starting point of a collection. They can inspire the design process and they are powerful enough to take the concept of a collection further and bring designs to next level. So, in many cases they are the most important aspect but then that depends on the creator and the way he is stimulated in order to come up with new design ideas.
What is the best piece of advice you have ever been given?
The percentage of yourself that you give to your work is exactly the percentage which you get back to yourself.
Give us the top 3 tips for inspiring young fashion designers.
Take the time to find a strong identity and be loyal to it.
Work on fresh ideas that truly attracts you.
Be involved in all stages of creating a product and listen to people who have the real expertise.
What are you excited to have coming up in the future?
I recently became a mom for the first time. While the experience has been amazing, I have truly missed the creative environment of my daily work routine. Therefore, I am very excited at the prospect of 'going back to the future' by returning to my daily habits of designing and being creative. I find it to be a deeply fulfilling and invigorating process.