Andreas Voukenas and Steven Petrides are artists making sculptural furniture in Athens and New York.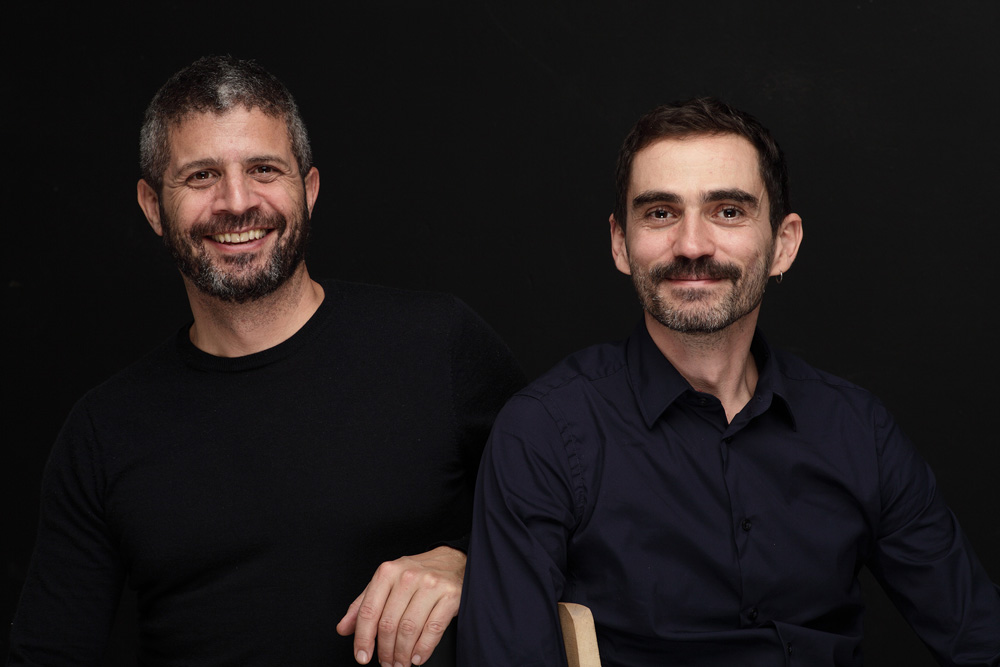 Voukenas Petrides was founded in autumn 2017 with a line of plywood chairs and stools made in a workshop in the Thisseio neighborhood of Athens, Greece. Two years later, they are producing polished bronze chairs, side tables, and lamps (exclusively for Gallery Fumi in London) at the AK foundry in the Nea Philadelphia suburb north of Athens. Along the way they moved to a bigger workspace in Tavros, Athens with separate studios for plaster, wood, and metal.
The need to make art is key to their relationship, which began in 2014 when Petrides left NYC for a European summer trip with a two-day stop in Athens. Voukenas met Petrides on a hot summer night in the Gazi area of Athens. Petrides was on a quick break from his corporate architectural duties in NYC. Voukenas was busy with his partners running their vacation rentals business named Live in Athens, short stay apartments. A year later Petrides moved to Athens, ironically the same city his grandfather fled 100 years earlier after the collapse of the Ottoman Empire.
Right before he left NYC, Petrides saw the Picasso sculpture exhibition at MOMA and decided to pursue a sculptural practice in his newly leased apartment in the Pagrati section of Athens. Voukenas was looking to rent a commercial space for a wood/metal shop and Petrides' apartment was soon becoming too small for his large plaster heads so they decided to rent a workspace together. Voukenas built a bench from solid pine timber framing then immediately began building furnishings for Live in Athens apartments and their new breakfast restaurant Spiti Mas.
Petrides continued to build large heads and figures in plaster. Instead of buying a chair for his sculpture studio, Petrides decided to build a chair out of plaster. He sat in his new plaster chair to rest in between building his figurative sculptures. Voukenas liked the new plaster chair but neither of them saw its potential until a year later. They started collaborating informally on furnishings for Voukenas' business and their shared home. They built a freestanding closet building from birch plywood and OSB that sits in the center of their open downtown Athens loft and a desk and cabinet from pine plywood for a newly renovated apartment of Live in Athens.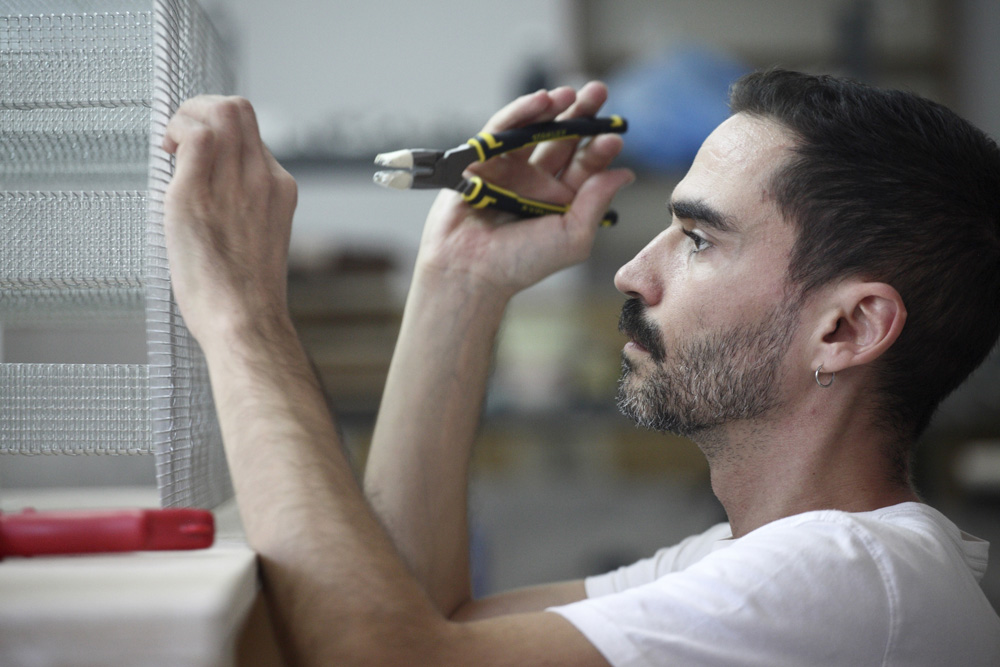 Petrides started to split his time between plaster works and a series of cardboard models for plywood lounge chairs. The designs explored tubes and cantilevers for their structural appeal. Voukenas and Petrides chose their favorite designs from the many models and Voukenas refined the designs for ease of
construction. Voukenas built the prototypes in his wood shop and Petrides posted an image of their Tube chair in birch plywood on Instagram. They direct messaged the image to Daniella Ohad and she liked it so much that she reposted that image on her instagram feed.
Dr. Ohad's research on George Nakashima and Paul Evans has been inspirational to Voukenas Petrides. By the autumn of 2017, Voukenas started overseeing a major expansion of Live in Athens, so Petrides went back to plaster sculpture and back to the plaster chair he made in 2016. All winter 2018, Petrides made a series of 20 chairs and stools out of plaster. After a day of apartment construction, Voukenas would spend the night critiqing the plaster designs and focusing on the plaster finish. Studio visits by the artist Andreas Angeladakis and The Breeder Gallery gave encouragement to this new collaboration. Daniella Ohad again reposted an image, this time of the finished plaster chairs on instagram and that image showed up on Sam and Valerio's feed at Gallery Fumi.
Voukenas and Petrides like to try to make the same design idea in different materials. For instance the early birch plywood Tube Chair inspired a lounge chair in solid oak and leather, then inspired more abstractly the convex concave tube chair in plaster, bronze, and aluminum. In 2019, Voukenas Petrides started a workshop in Hudson NY where Voukenas began exploring the process of building steel welded wire mesh structures (inspired by the woven wire mesh used in the plaster pieces) as stand alone consoles and tables which are featured at The Gilded Owl in Hudson, NY.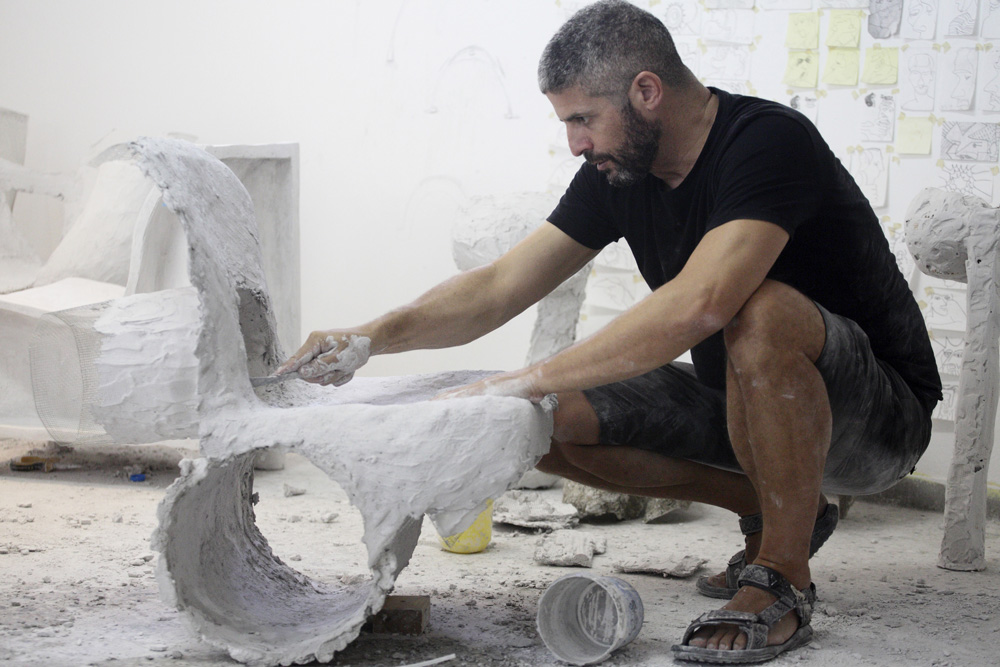 The artists' interests in structure, materiality, and process originate from their backgrounds. Voukenas, 40, spent his early years at the Athens University school of interior design and built bent plexiglass retail displays and sewed embroideries for his mother's baptismal linens business. Voukenas learned by doing. He welded steel chair frames and built complex wood structures. Voukenas can basically figure out how to build anything. Petrides, 53, grew up in Connecticut and studied architecture with Steven Holl at Columbia University before beginning to practice architecture in NYC. His early plaster architectural models for Steven Holl informed the current work. Today, Petrides designs most of the plaster and plywood pieces while Voukenas prototypes the wood and designs the welded wire mesh works. Petrides' designs are studied and critiqued by Voukenas then together they refine the designs.