Karolos Michailidis aka #thefoodarchitect lives in Athens. He is a licensed Architect, an excited designer, a food enthusiast and a chef in the making. He is passionate about food – the tradition of it, cooking it, and sharing it with others.
"From early stages in my Architecture studies, I was fascinated by food. This resulted in an ongoing investigation, pushing the boundaries and finding ways to balance or connect these two. In many of my projects I studied the relationship between cooking and designing and how food and space are related and can inform each other. For me the table is a meeting place, a gathering ground, the source of sustenance and nourishment, festivity, safety, and satisfaction.
A person cooking is a person giving: Even the simplest food is a gift.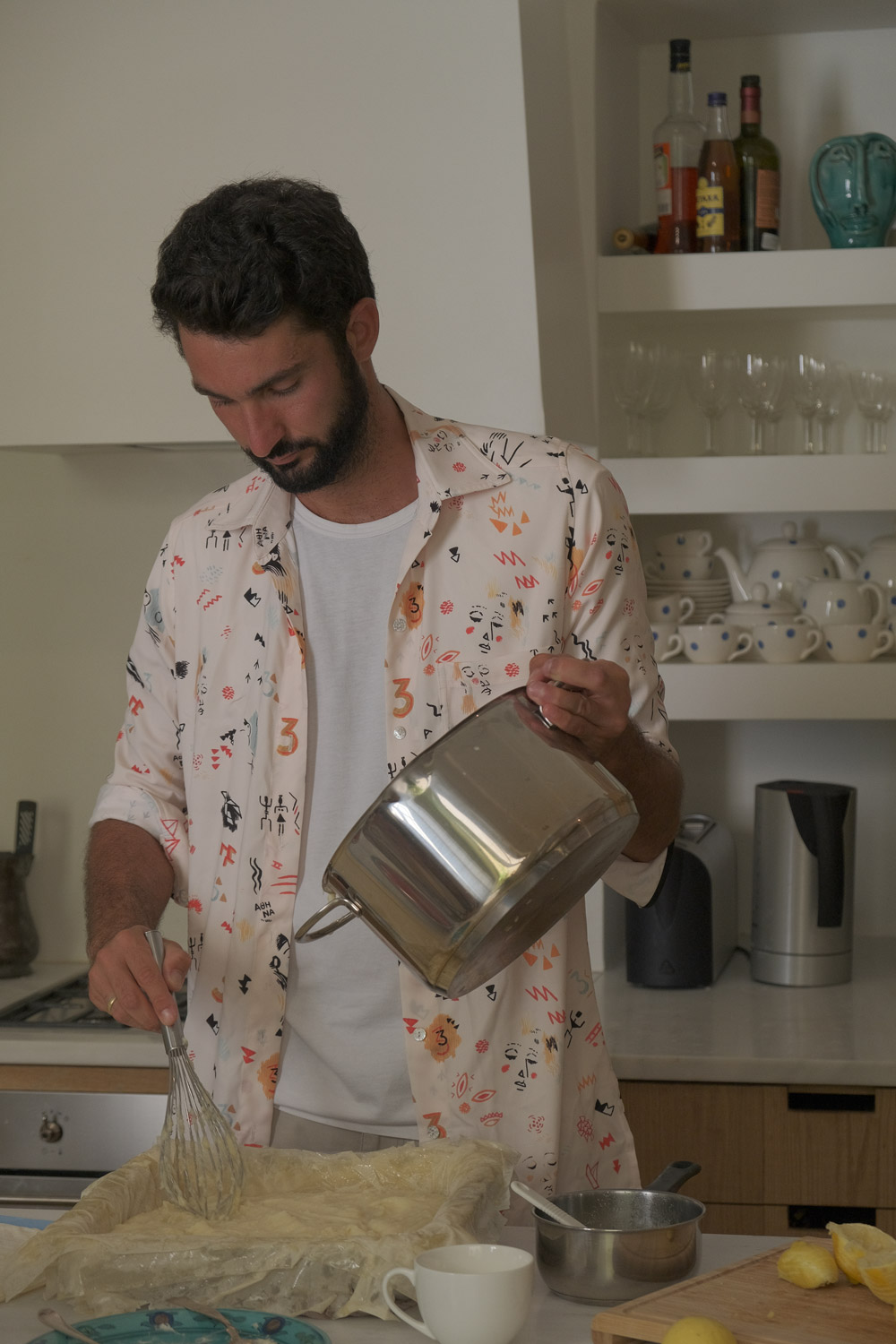 After years of cooking, developing recipes, eating a lot, experimenting, photographing and styling, in 2019 I launched my website www.thefoodarchitect.com where I share everything I do. From recipes inspired from my Mediterranean background and Greek heritage and influenced by my travels, experiences and people I meet. To food styling jobs, competitions, yoga retreats, private caterings, video shoots and articles. All these projects and collaborations are opportunities that have formed who I am today, developed my skills and knowledge and helped me define my own reality and boundaries.
I see food and eating as a spiritual act and consider the spatial and performative aspects of eating in relation to architecture intertwined. Shared meals are among the most perishable and preserved cultural artifacts. Ideas of memory, identity, ideology, conviviality and loss create a discussion between food and space, cooking and designing. One of my main projects that I am currently working on is starting a supper club in Greece. A supper club, or guerrilla restaurant, or pop-up dinner, is a traditional dining establishment that also functions as a social club. Traditionally supper clubs were considered a "destination" where patrons would spend the whole evening, from cocktail hour to nightclub style entertainment after dinner.
All these ideas will be manifested in a two-storey mansion with an inner courtyard, an example of a classical household of Athenian architecture, one of the few remaining in Athens. This is an initiative in collaboration with three other partners, aiming to regenerate this emblematic building of the city in a modern multipurpose space – specifically, the atrium space. The goal is to carry out public benefit actions that will contribute to the promotion of sports, artistic and charitable activities – especially at the end of an era of suspension of universal freedom and social reconciliation – while at the same time helping to upgrade Exarcheia, an important area of long historical, political and cultural interest.  The garden will house the supper club, a thematic dinner that will change every month and guests will be emerged from the beginning till the end in an all-sensory experience. Each guest brings something to the table, an untold story, and the experience unfolds from the food, to the sounds, to the decoration, to the different levels of amusement.
Another aspect of research and interest is the link of three fundamental and interconnected ideas: First, the architecture, specifically each kitchen as a typology and a sacred place in every household. Secondly, people and their untold stories, and finally, ingredients and food and how it has evolved and adapted through the personal experience, memories and cultural traits of every individual. This idea for a book was born a few years ago and it has been evolving in my head. I had the chance to work with NOMAS Magazine on a short version of this idea for this upcoming edition on an island that is very important to me, which is Patmos.
I took a look at how people from diverse backgrounds ended up on the island, what brought them there in the first place and what made them stay. Each person shared with me a recipe, nothing formal, something from their daily life. What is unique about Patmos is how different people around the world and throughout the years have found their safe place here (either permanently or as an escape) and how this is depicted in the food they make for themselves or for their families. This process has given me the opportunity to reform the ideas and visualize this concept which hopefully will be the start of ongoing investigation, starting from Patmos but that eventually can be adapted in different places."