Over the past 12 months at The Greek Foundation, we've been trying to showcase some of the best projects related to Greek design, architecture, photography, the arts and cultural production in general.
Our aim has been to bring our readers articles that will interest and inspire them, but also to connect artists to the world and bring the world closer to them, too. In this context, we have compiled a list of the most popular articles of 2020, which essentially offers an opportunity to go through some of the most impressive projects of the year, step by step.
Of course, this list would not have been possible without the support and contribution of our readers, and most important of all, the architects, photographers, designers, painters and all the other artists who shared with us the outcomes of their efforts, talent, imagination and vision. So, on behalf of the Greek Foundation, a big THANK YOU to y'all and we wish you a happy, prosperous and super creative New Year!
Villa Vista in Patmos island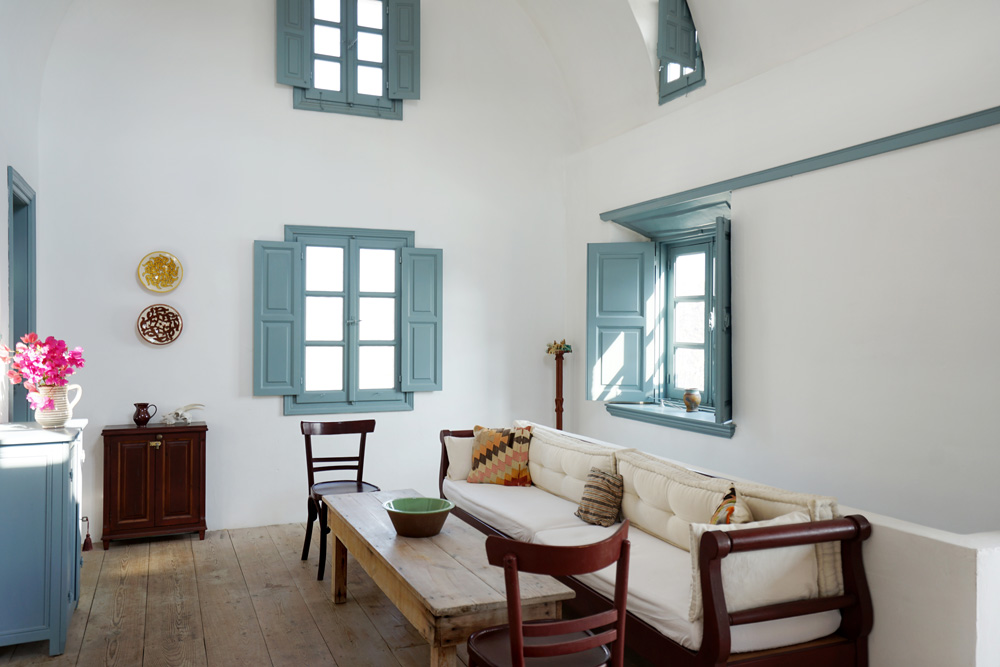 Serenity and endless sea views spring to mind when describing Villa Vista in Patmos. Standing on a rocky hill with sweeping views of Skala Bay, the island's shoreline, nearby islets and passing ships, the charming villa that was built on 1995 and designed by architect Dimitris Nakos is a lived-in residence that has real character.
Onos Living project in Tinos island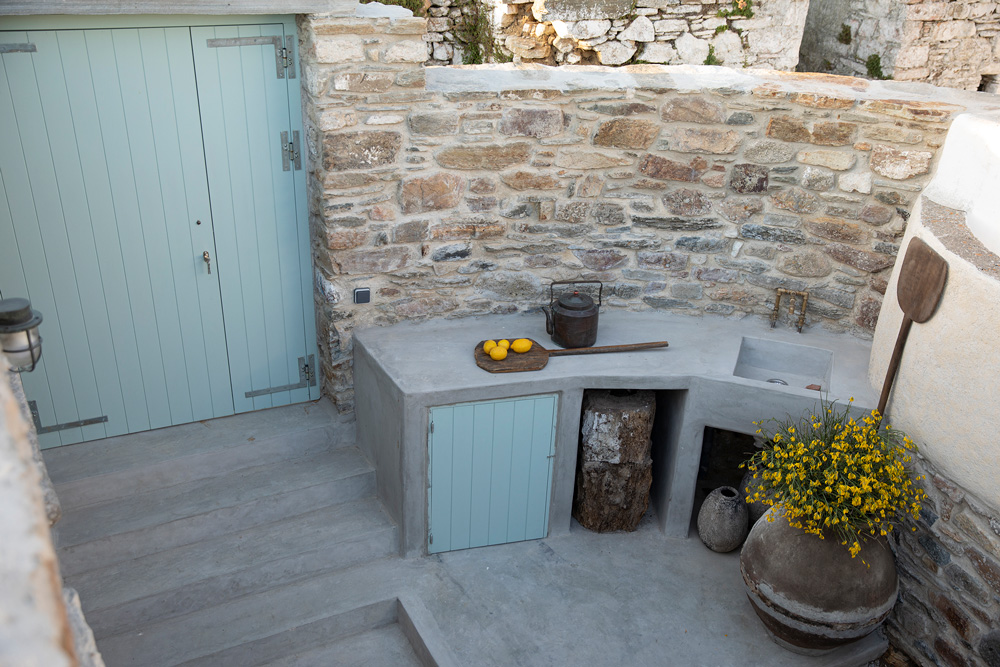 Onos living project is based on the simplicity of the idea of transforming an old stable -hand-built with stones, wood and mud- into a fully equipped house, with tremendous respect to its uniqueness and the Cycladic surroundings.
'Les Rochers Fauves' documented in Amorgos by French photographer Clement Chapillon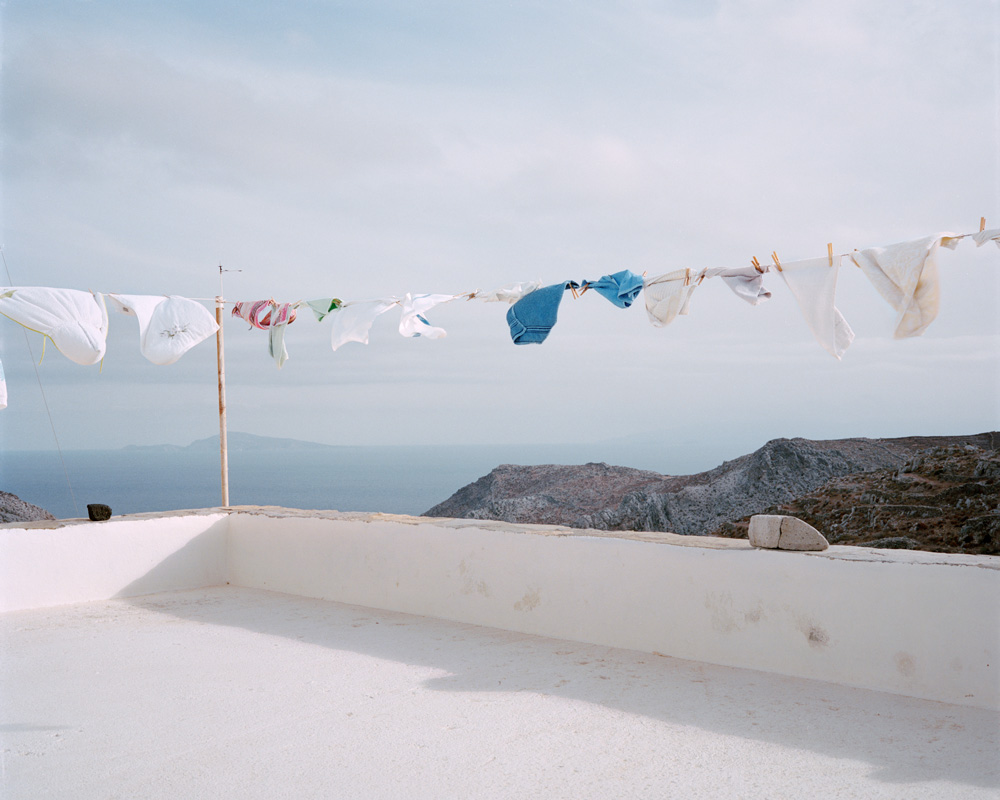 In his series entitled "Les rochers fauves", Clement Chapillon questions the notion of geographical and mental isolation through an island in the Aegean Sea. In 2018, Chapillon began an in-depth documentary work that spanned 2 years – capturing the intimacy of the Ilians, the topography and the vernacular of the island.
Merikas beach house in Patmos island by Studio Krokalia 
The design of a beautiful 19th Century beach house on the Greek island of Patmos by Studio Pale & Studio Krokalia.
nCaved house in Serifos island by Mold Architects – Iliana Kerestetzi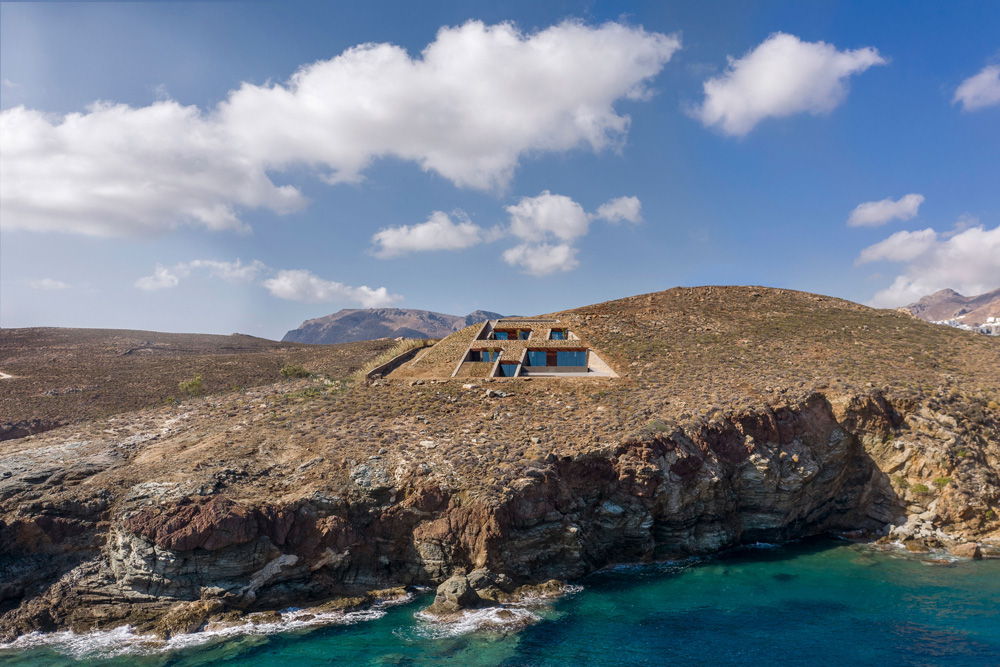 NCaved is located on a small secluded rocky cove seemingly hovering just above sea level. The need to create a protected shelter, at a location of disarming view, but openly exposed to strong north winds, led Mold Architects to the decision to drill the slope, instead of arranging a set of spaces in line at ground level.
The Rooster Antiparos Wellness and Lifestyle Resort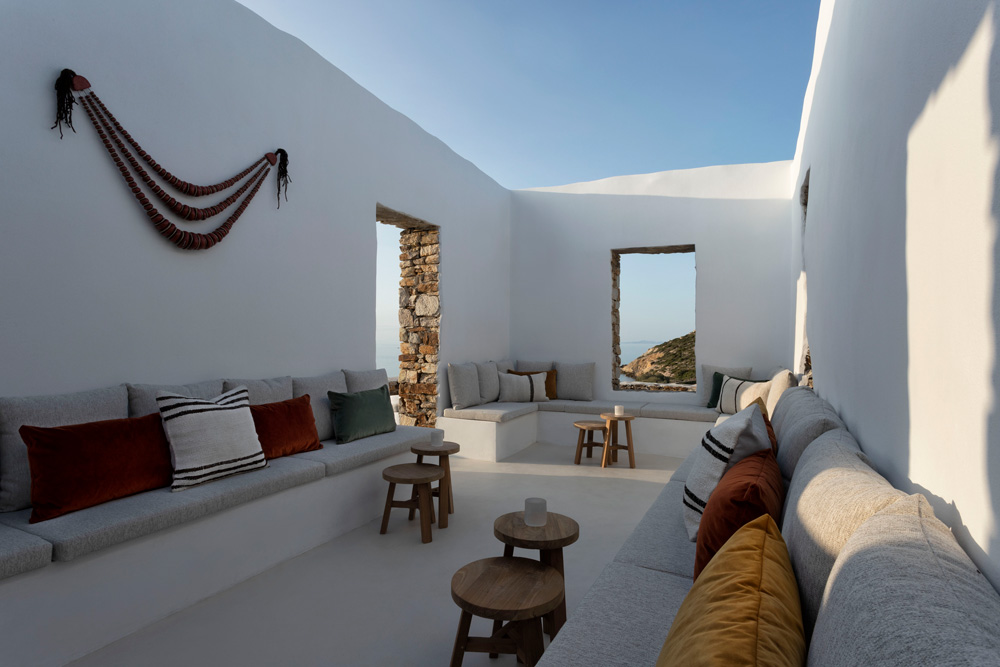 Conceived as a wellness and lifestyle resort to embrace Slow Living, The Rooster is designed with unpretentious aesthetic luxury in mind, paired with excellent service, while providing a holistic experience for a mindfulness escape.
Pera Perou Villas in Kefalonia island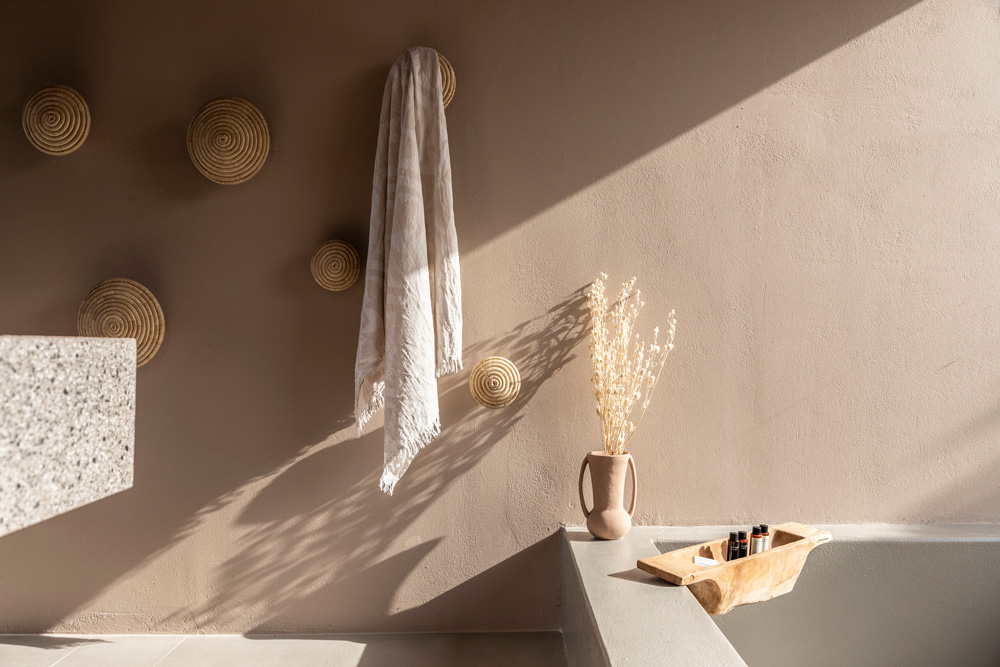 Pera Perou's name reflects all that this seaside oasis has to offer. Literally meaning 'from here to there and everything in between,' this haven offers whatever the heart desires. It is both a private, quiet refuge offering stunning panoramic sea views while being only a stone's throw away from the shops, restaurants and nightlife of Kefalonia.
Todd Marshard ceramics workshop based in Paros island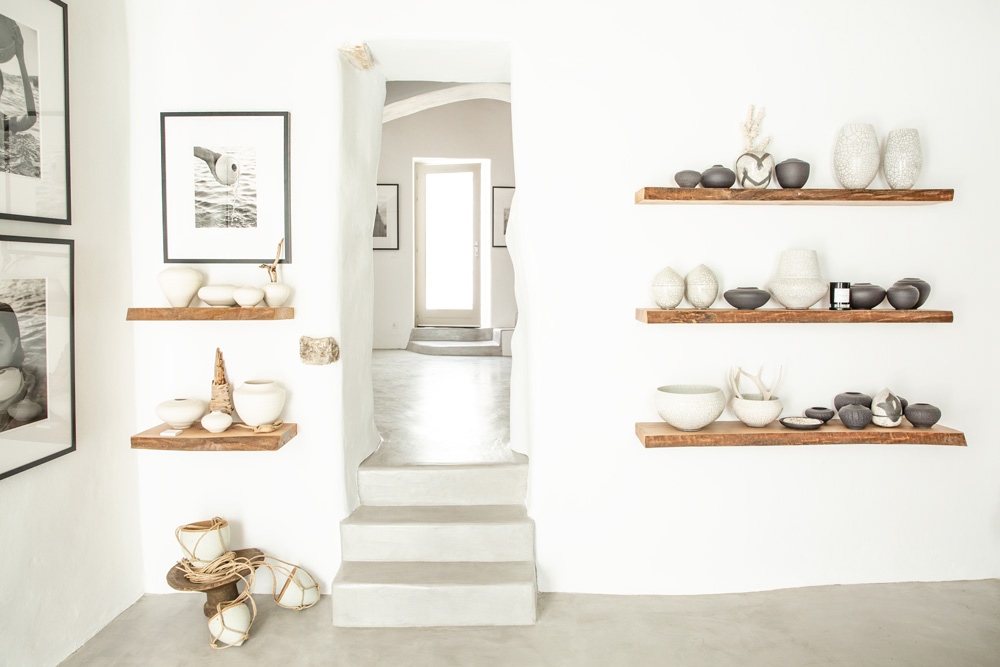 Having worked for the past 25 years as a fashion photographer in NYC, Todd Marshard has now opened his first ceramics workshop in Paros island and the village of Lefkes.
Zeus+Dione AW 21-22 'Metsovo' Collection 
F/W 2021 Zeus+Dione collection takes its references from Metsovo – a mountain locale with a rich regional dress heritage and a longstanding culture of weaving. 
Akres Restaurant in Lindos, Rhodes by Minas Kosmidis Architects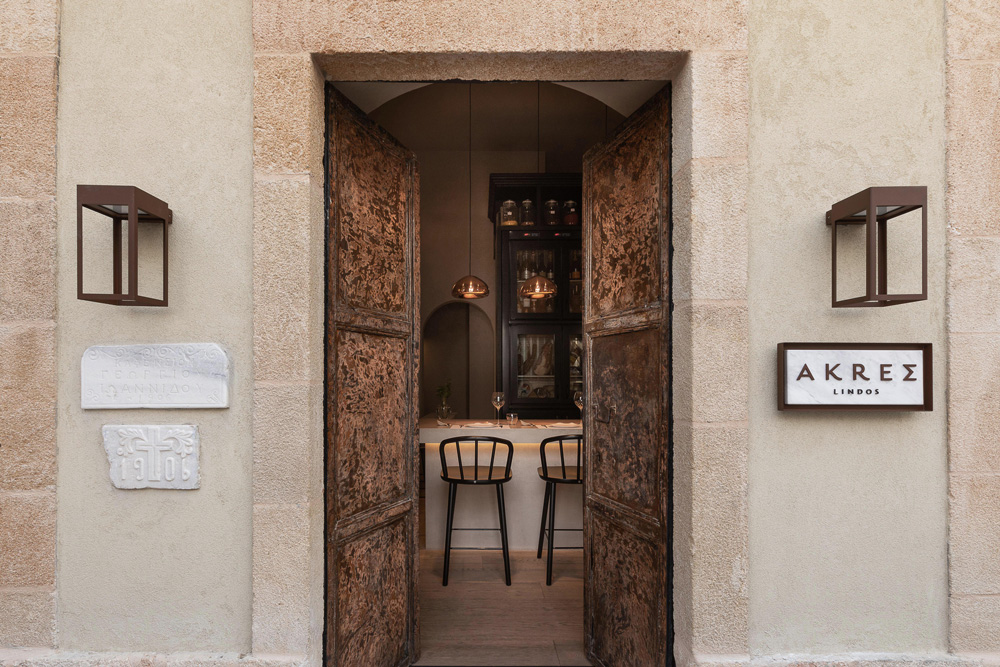 Minas Kosmidis Architects undertook the design of AKRES restaurant by Lindos' Acropolis. The restaurant of a 100 sqm. promotes the intersection of the past with the present and of tradition with the modernized image of the island.