George Vavatsis is a ceramics artist, born in Thessaloniki (1974). His work based on potter's wheel, consists of utilitarian objects made of stoneware, clay or porcelain. He studied Visual & Live Art at Cheltenham & Gloucester C.H.E. Uk and in 2000 he opened his first pottery studio in Thessaloniki, Greece.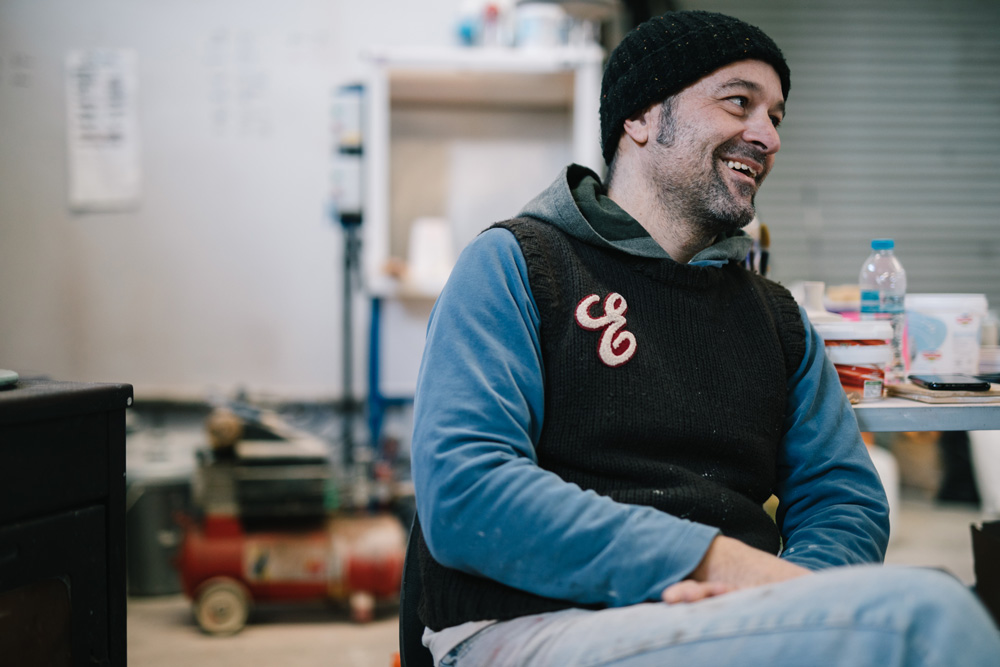 Where and why did you start with ceramics?
In 1996, I studied painting and drawing at an English university and this was the first time I got a course in ceramics. I got stuck into it. There I said "that's me".
I moved in Thessaloniki and opened my first workshop 20 years ago. It's a basement, in which you can easily feel isolated, like you're actually underground.
Two years ago, I opened this production unit in Thessaloniki's suburbs, where all the ceramic artworks are being produced. So currently I'm in between the old workshop, which now works as a school of ceramics art, the production area (here) and a gallery space at the center of the town.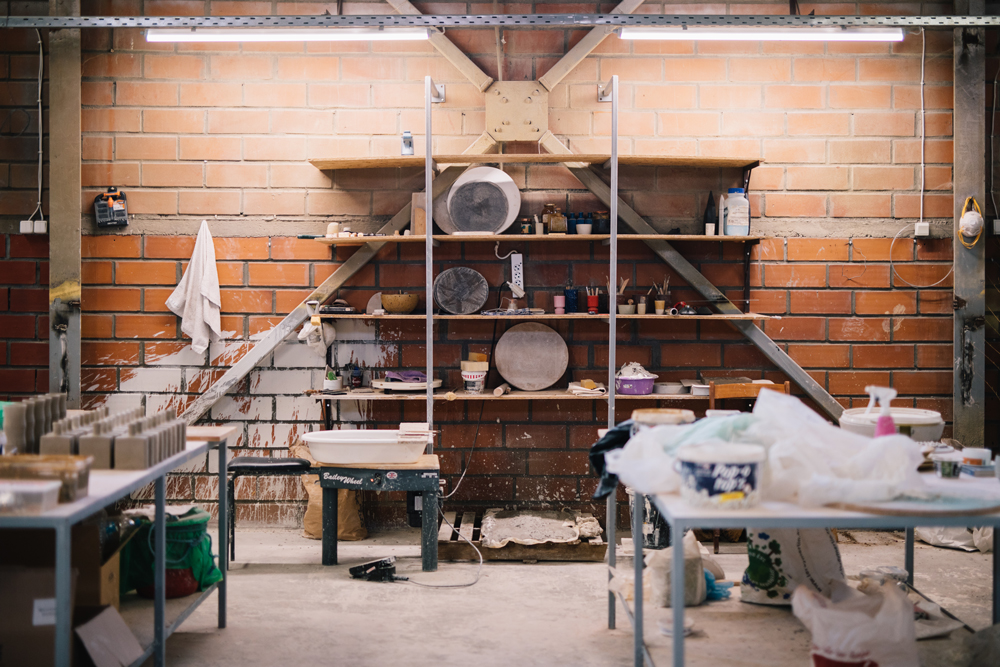 Is this the ideal place for a ceramics production unit?
This is the perfect place to do ceramics. You need air, open space and special conditions to allow you to get the result you want. Here you can open the door and fire outside. I am able to have such a big kiln that can fire a really large object.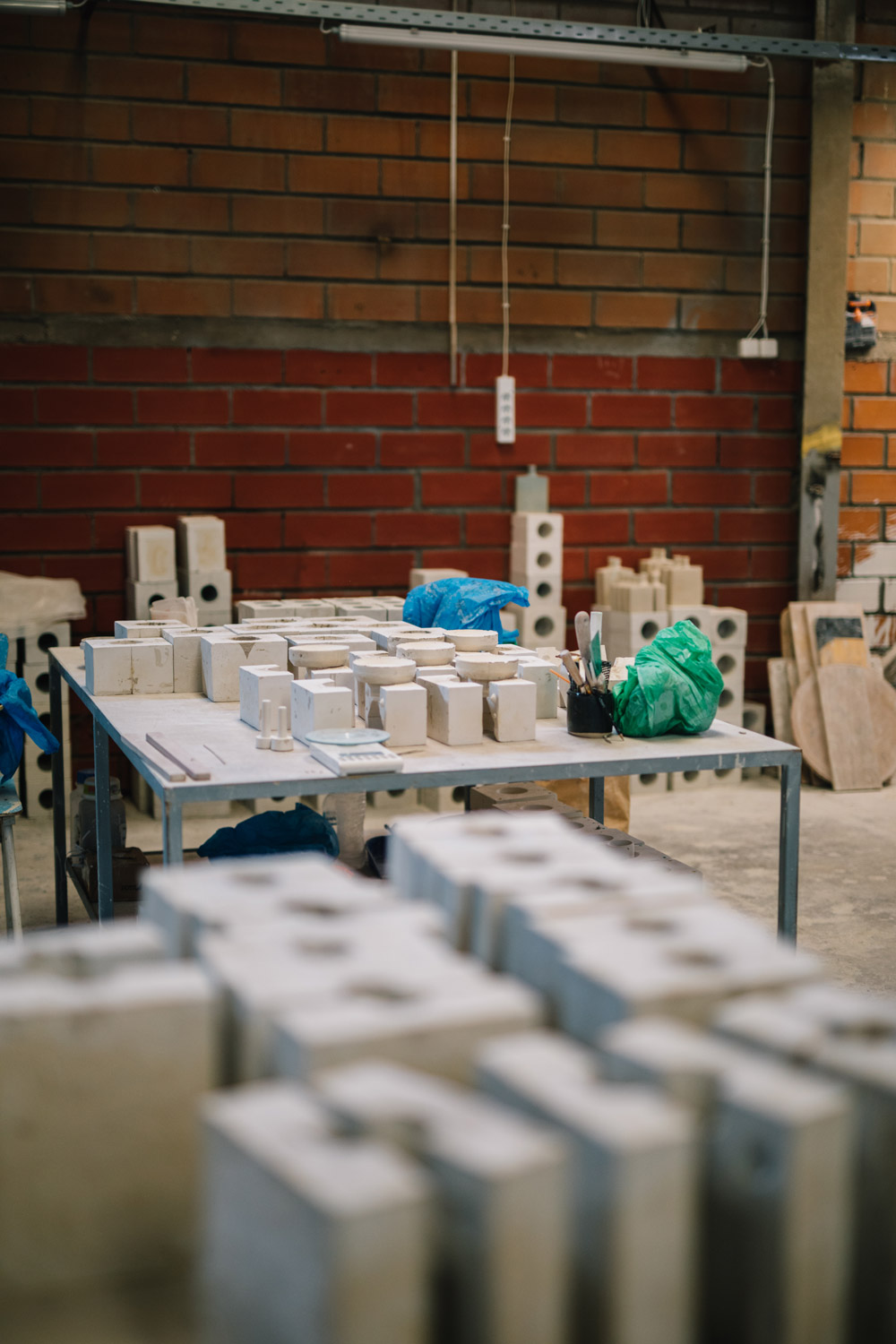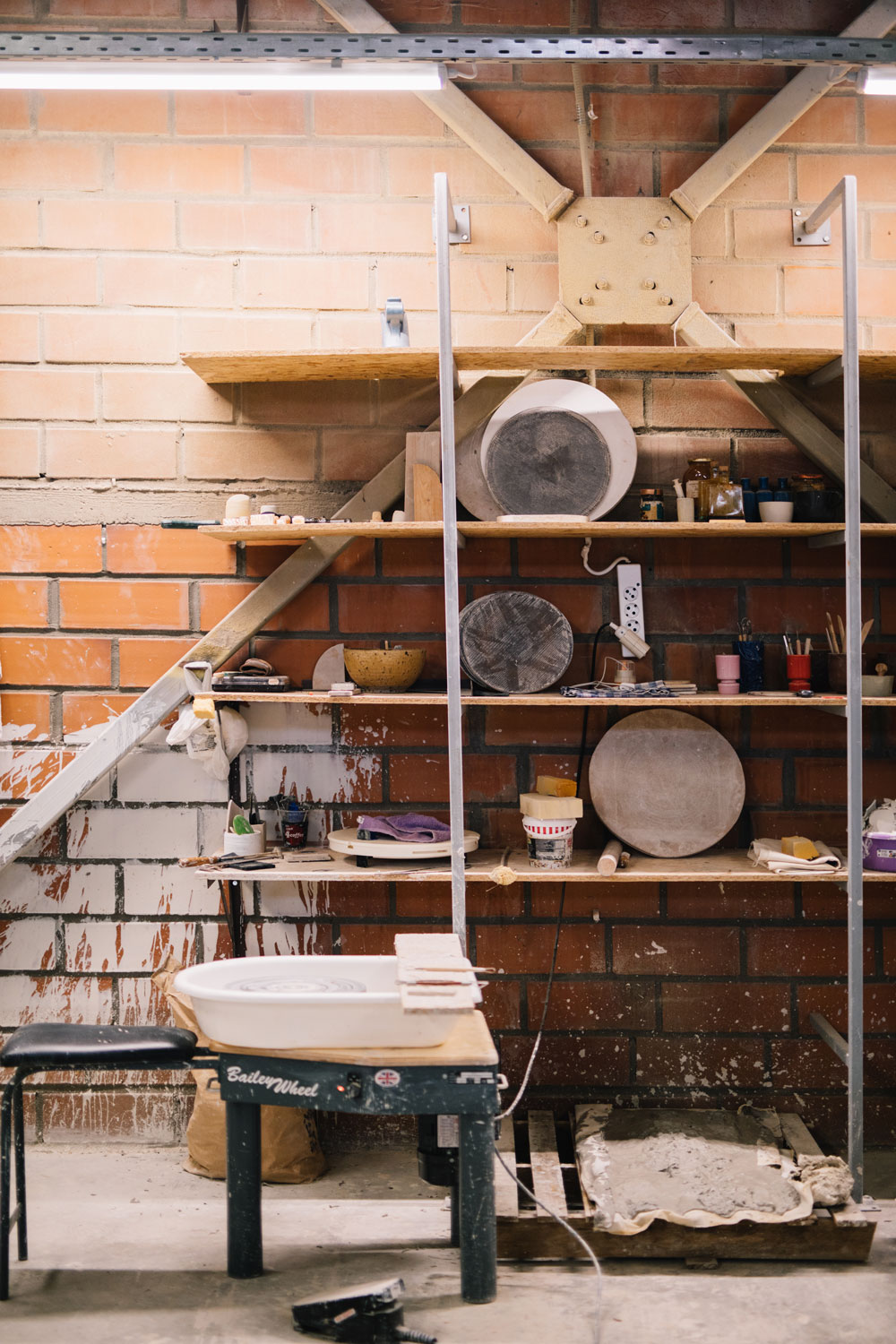 In ceramics, you can't work with neighbours. You need to be a loner.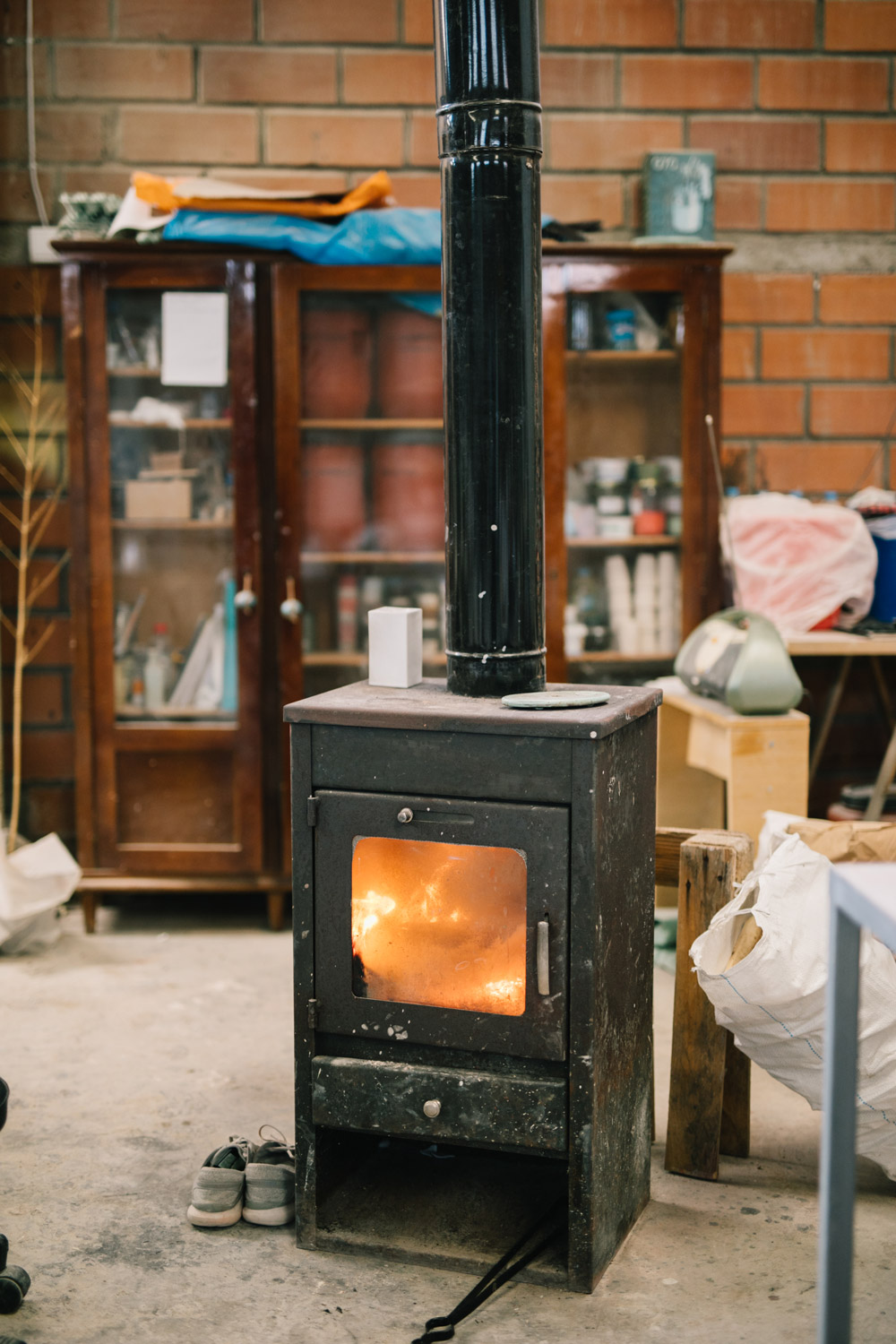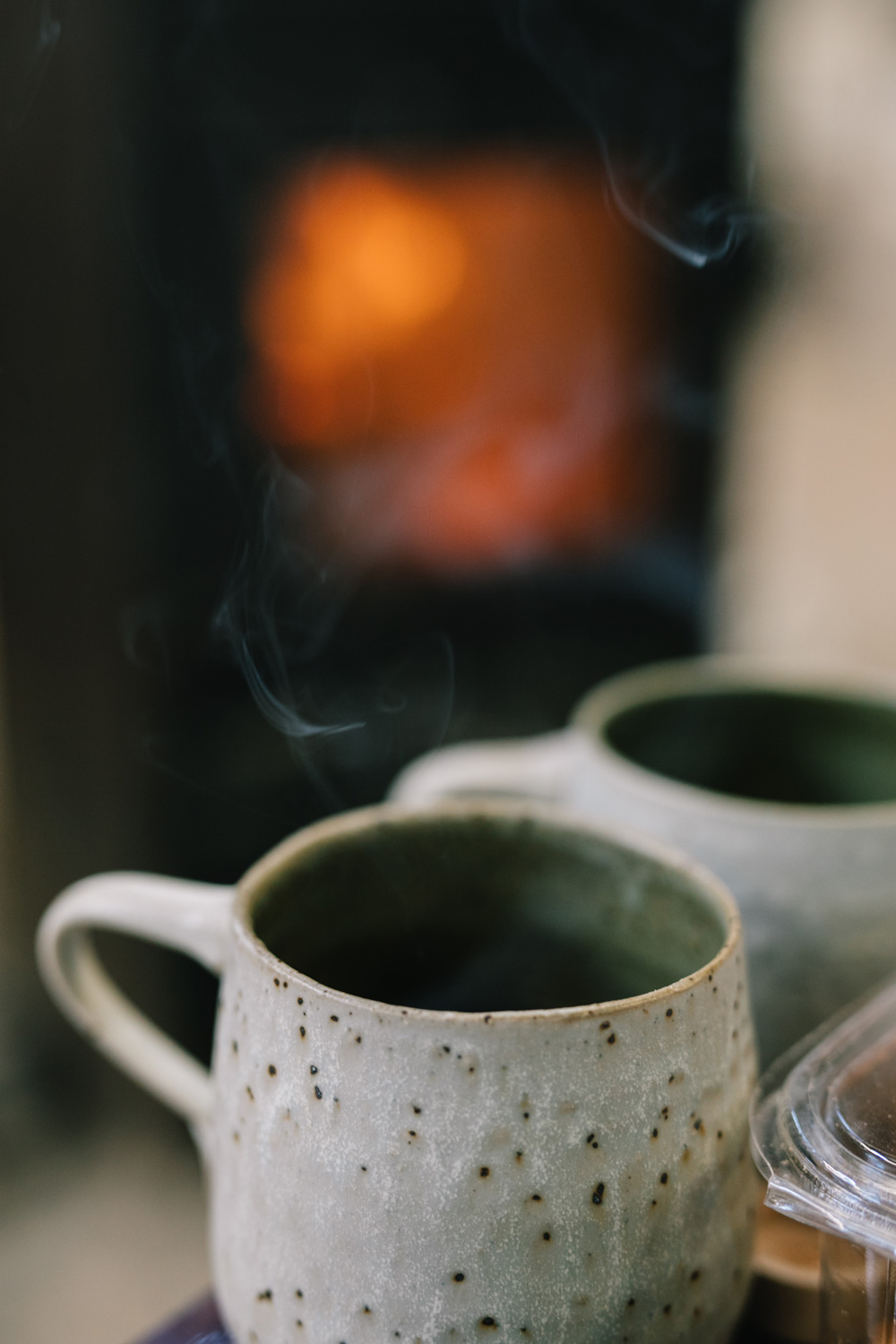 How did you manage to be a quite well-known ceramics artist?
By word of mouth. The network grows through our personal work.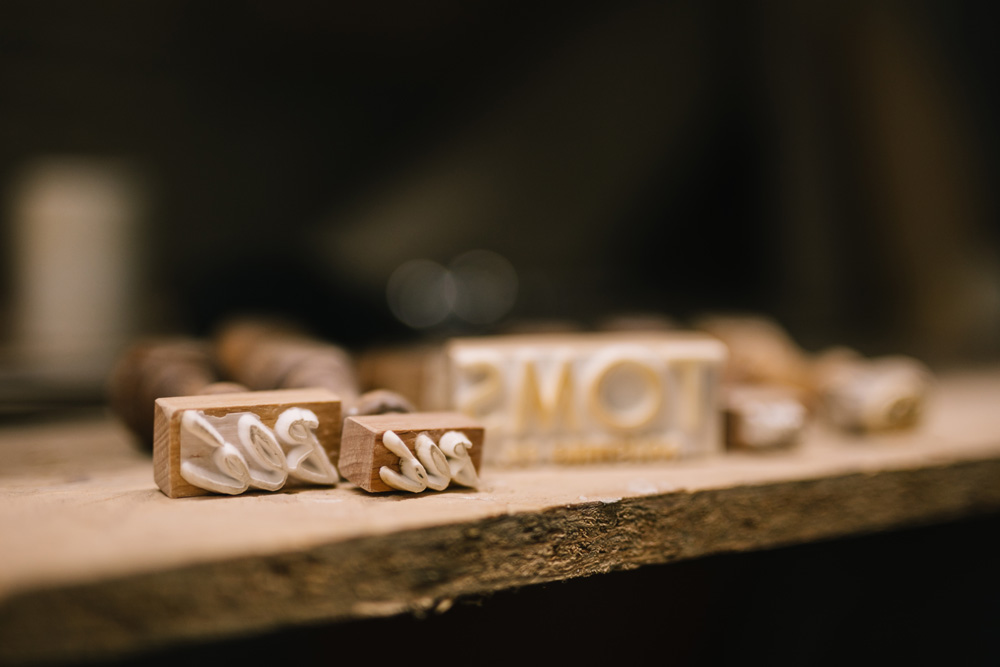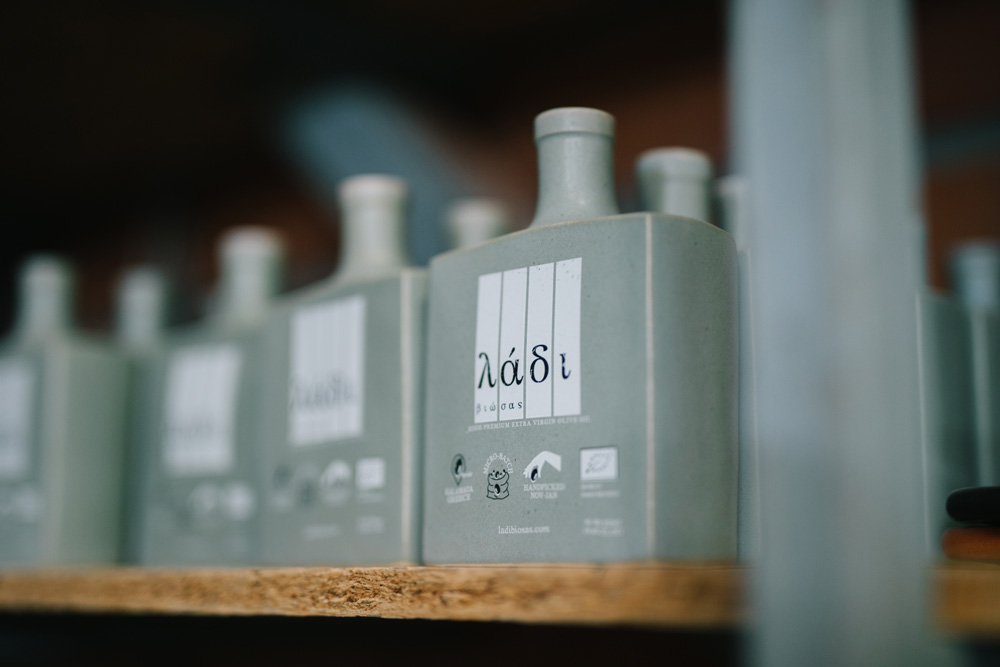 You don't really deal with the digital world.
No, not at all. I had a website, which I left to expire, because I couldn't actually use it.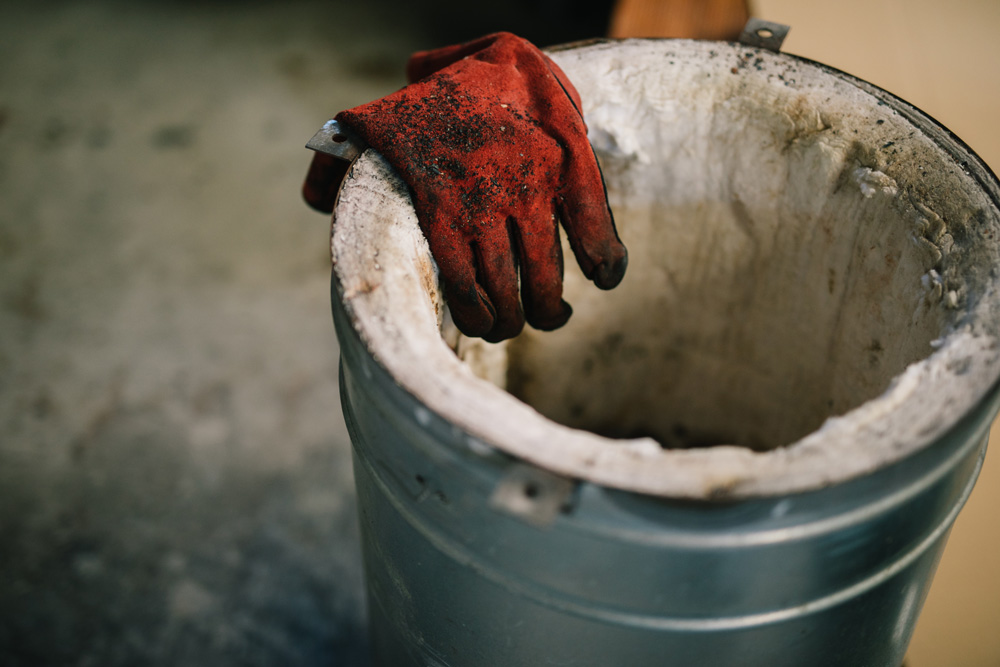 Nowadays, ceramics are kind of "in fashion", especially though social media. What are your feelings about it?
It helps, but I don't work with digital. This world doesn't concern me. It is cultivating an interest in what we do, in ceramics in general and it informs people about it, even the wrong way some times, and it is fun to see that for some people ceramics are some kind of meditation.
Someone may come to attend a ceramic lesson, because he doesn't feel like doing yoga. So, that's quite fun.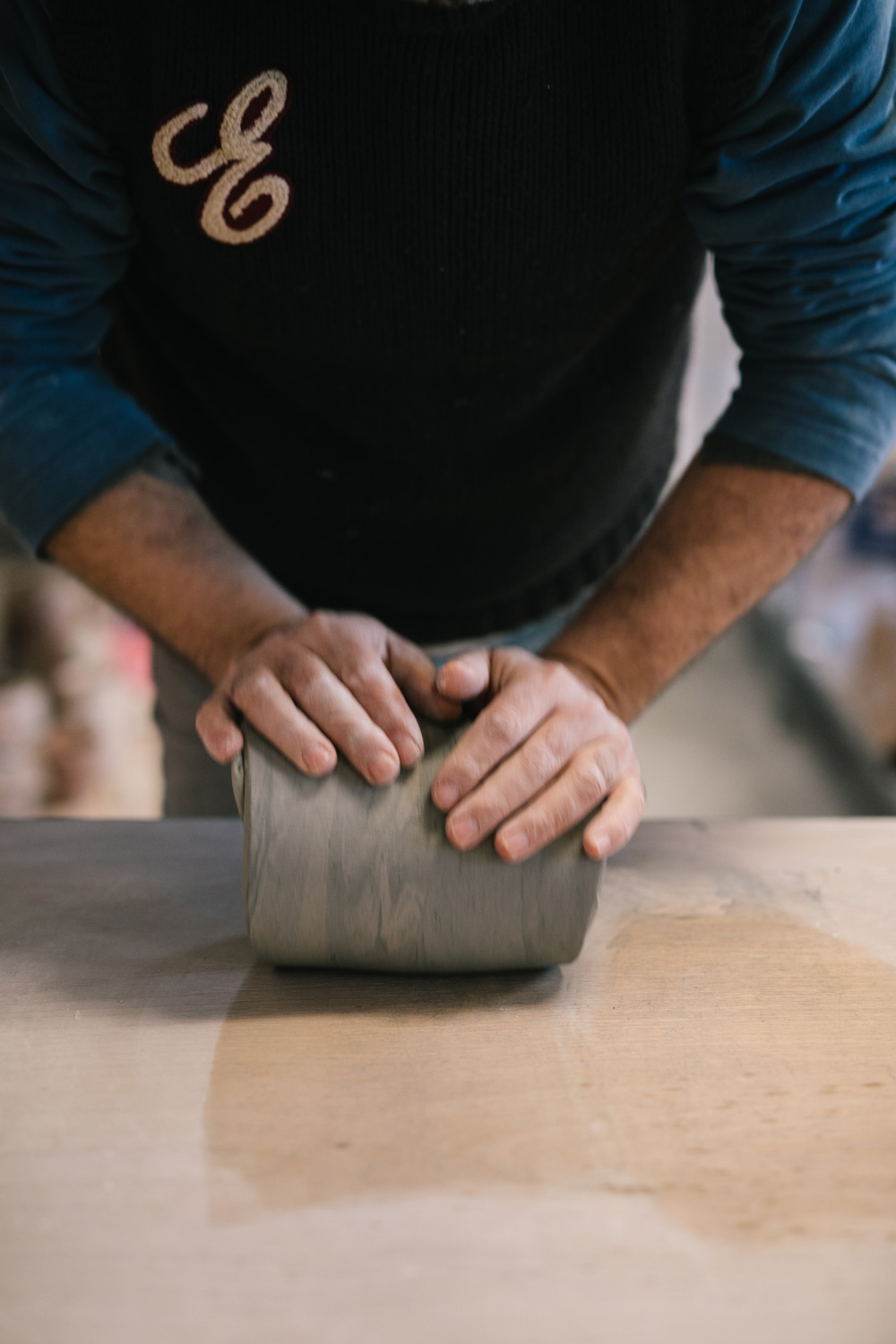 Why should I buy a mug from you, rather than from a common chain store?
I have to convince you that what I do makes more sense, that this mug will play a role in your daily life and that it may affect your entire mood.
You will choose it. It will have the uniqueness that you will have chosen and no one else will see it the same way you do. Some people may see nothing on it. Not everything is for everyone.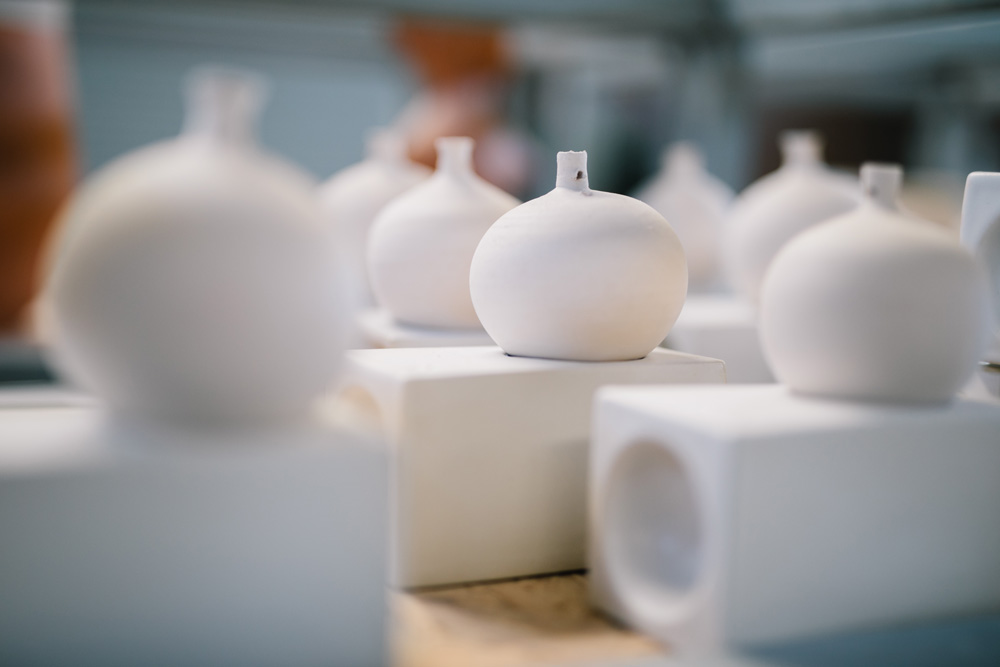 So, people buy a handmade object, because of the joy that this relationship between the creator and the buyer creates. It's that bonding; you have it in your hands for a while, then I have it in mine.
Exactly. There is a relationship between us, until the moment you leave the store with this object. That's where my role ends. And then your story starts; a story with a lifeless object that comes alive every time you use it.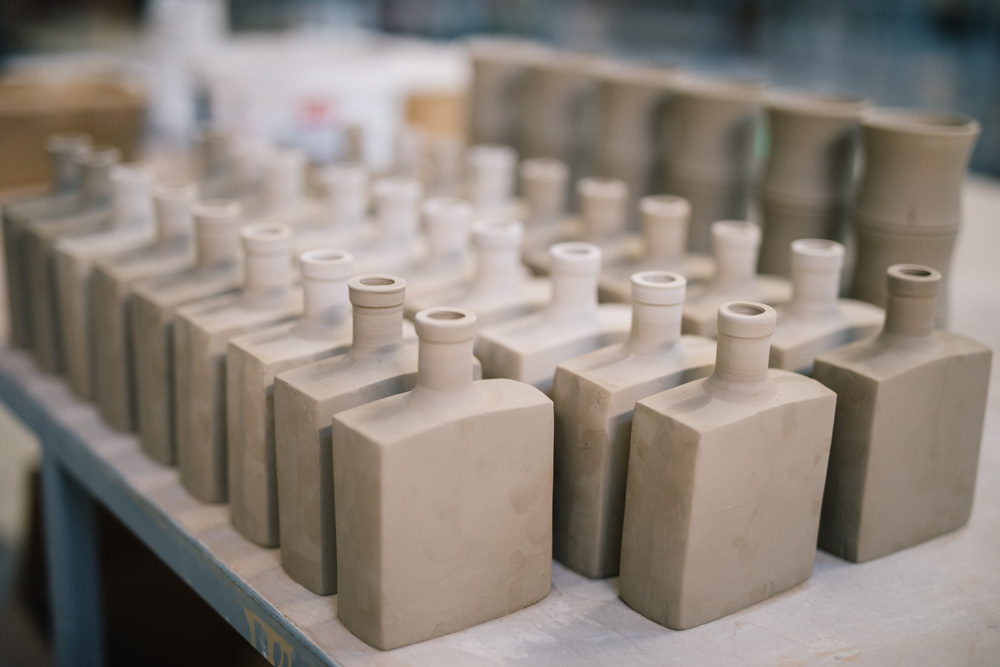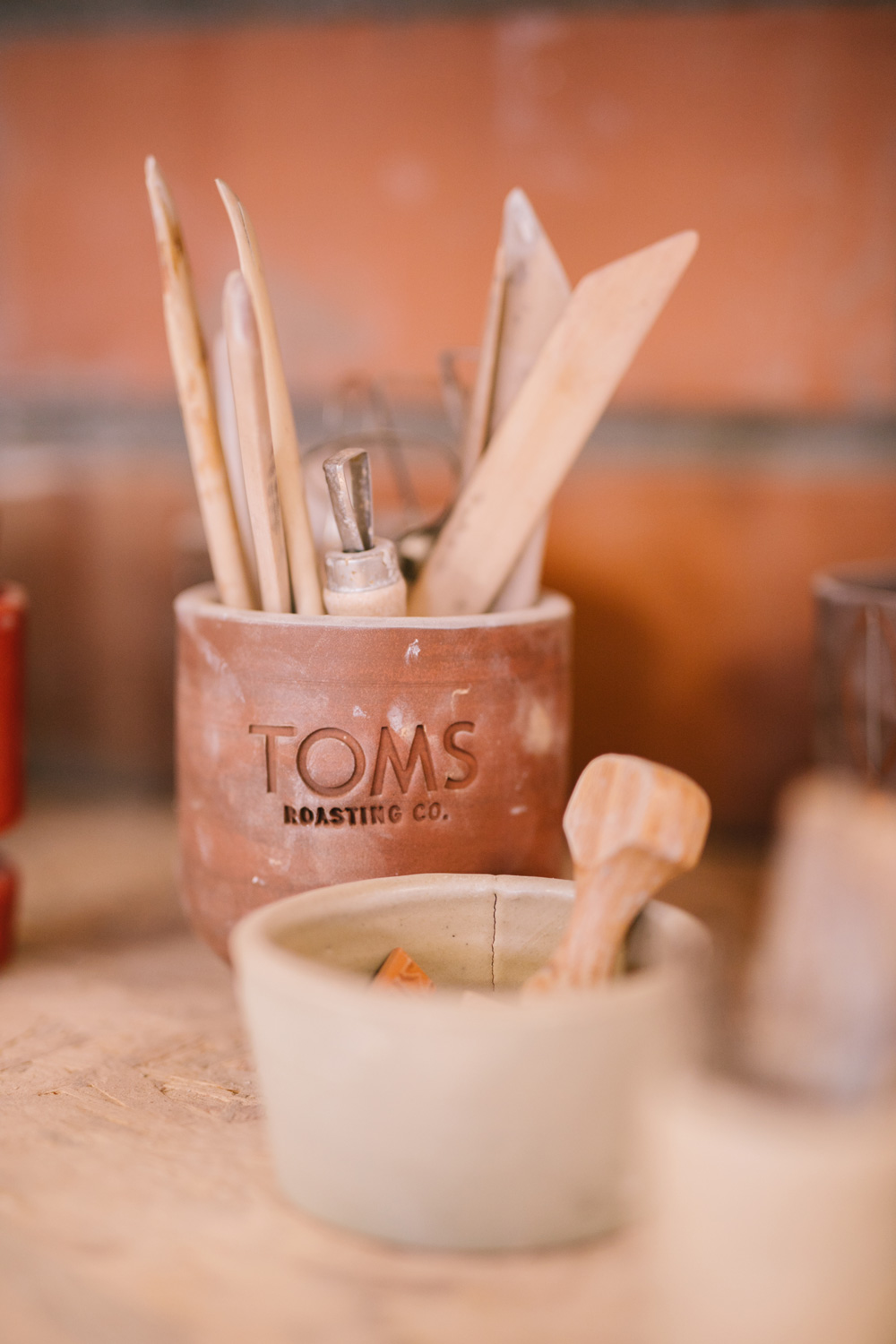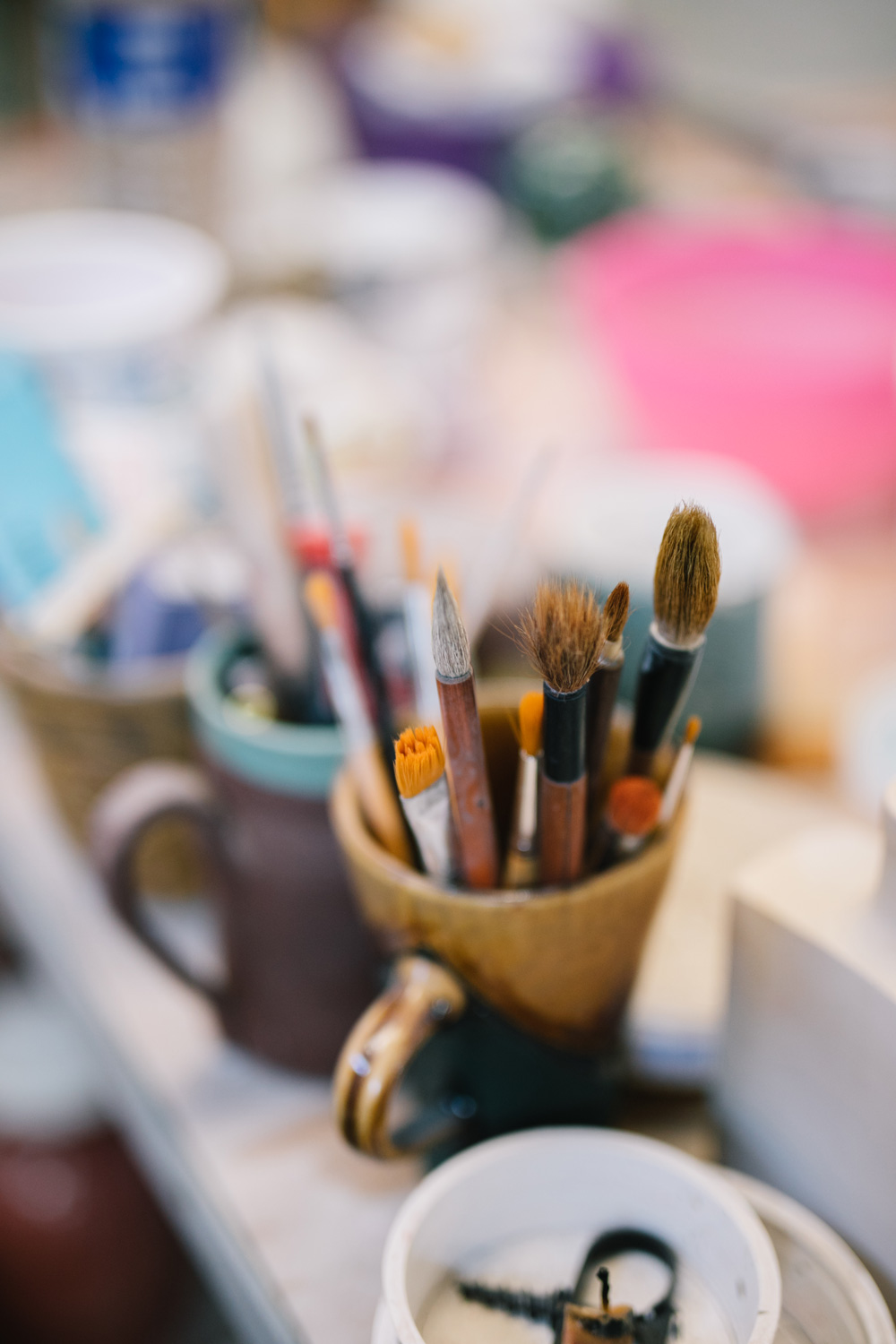 What's the most important tool for your work?
My hands.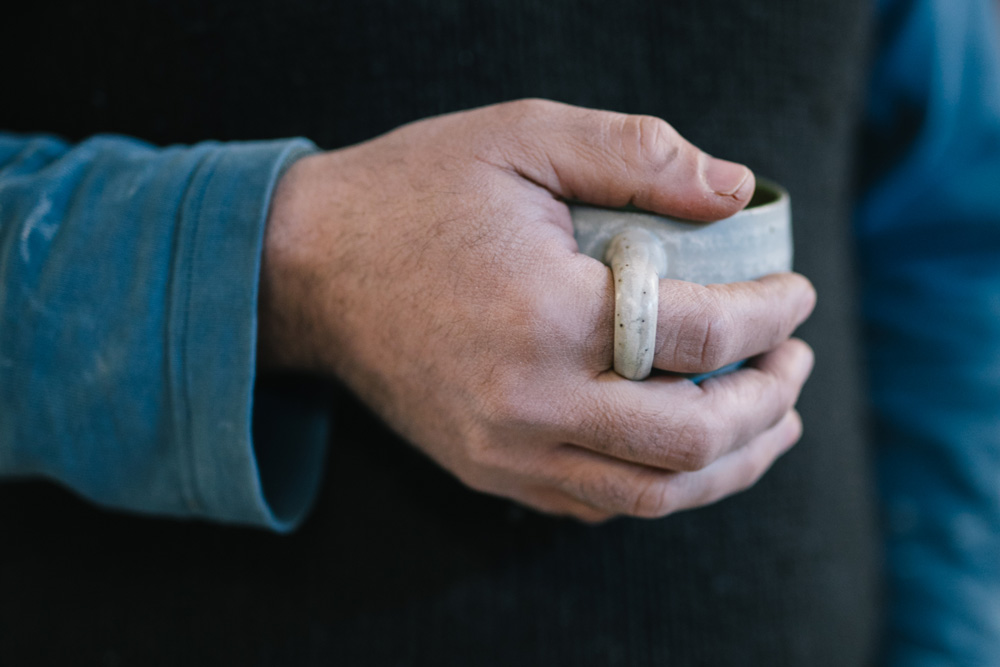 What is the tool that would get me feel excited in this space?
Even if you know it, the pottery wheel will make you feel excited. It's all this cinematic thing that you see and want to try yourself. This is the most important reason that many people make ceramics.
In order to work the wheel, many things have to happen within you at the same time. You need balance, concentration. It's a whole big theory.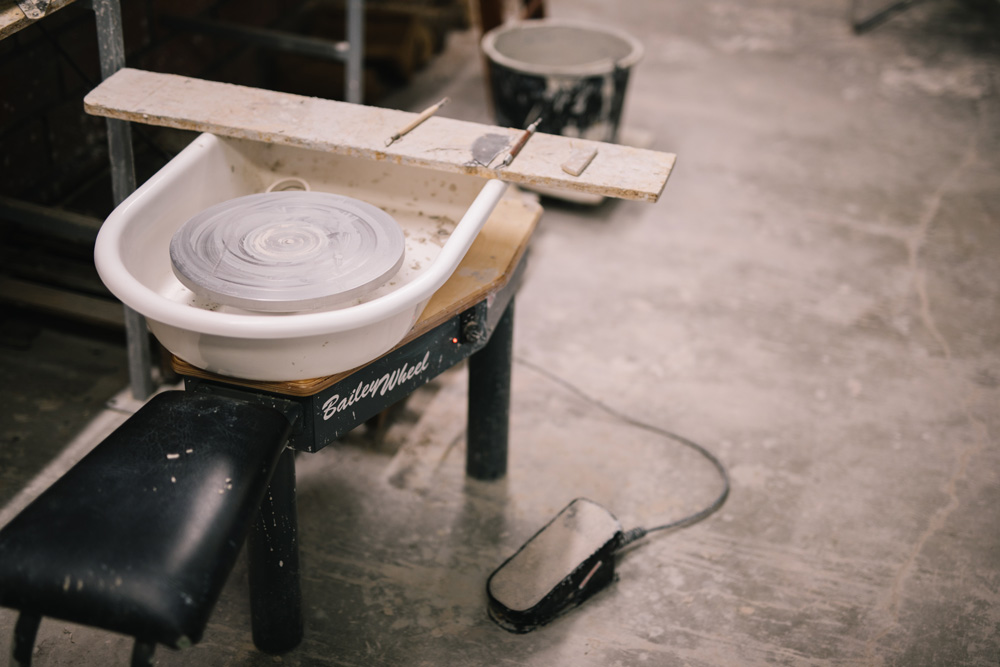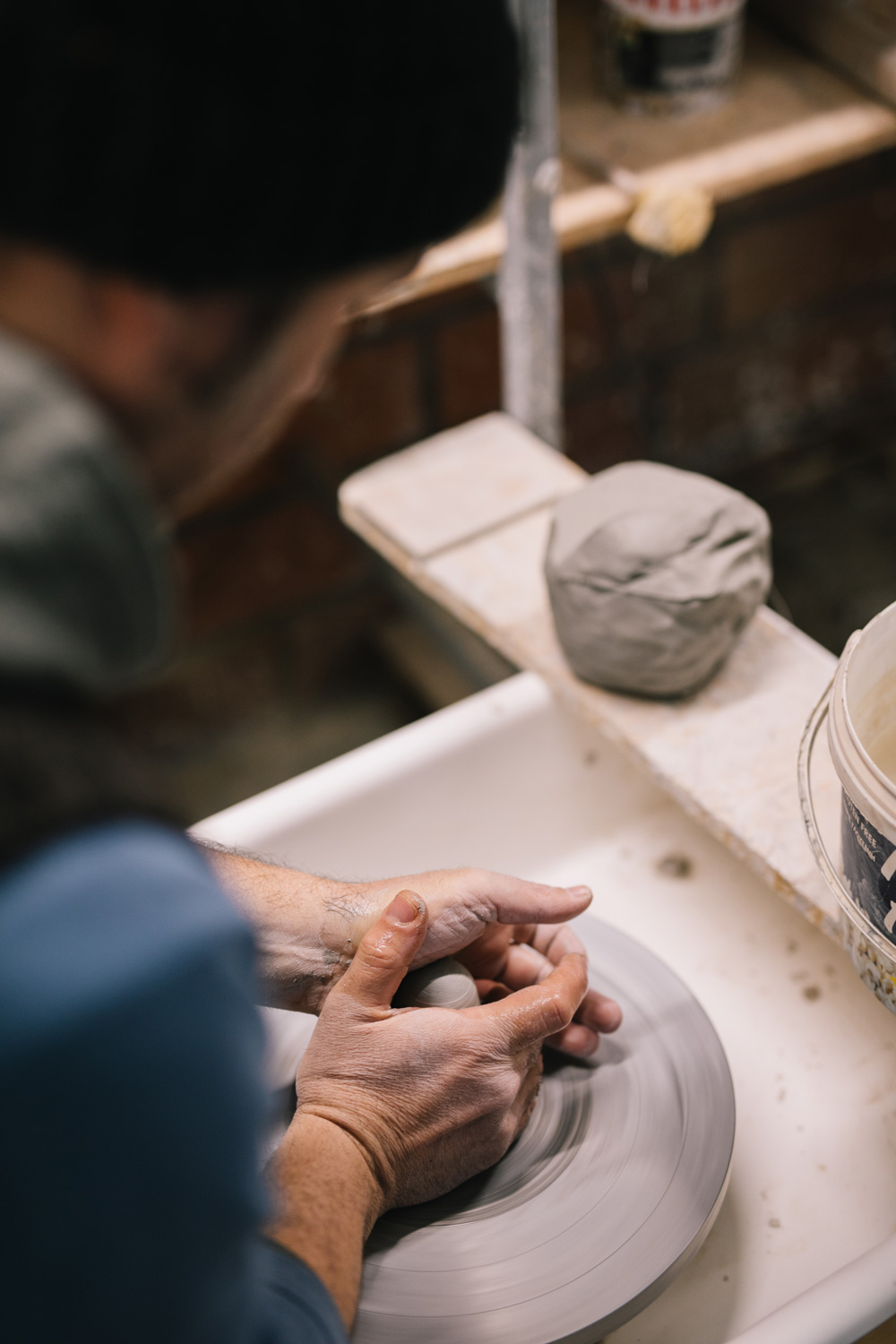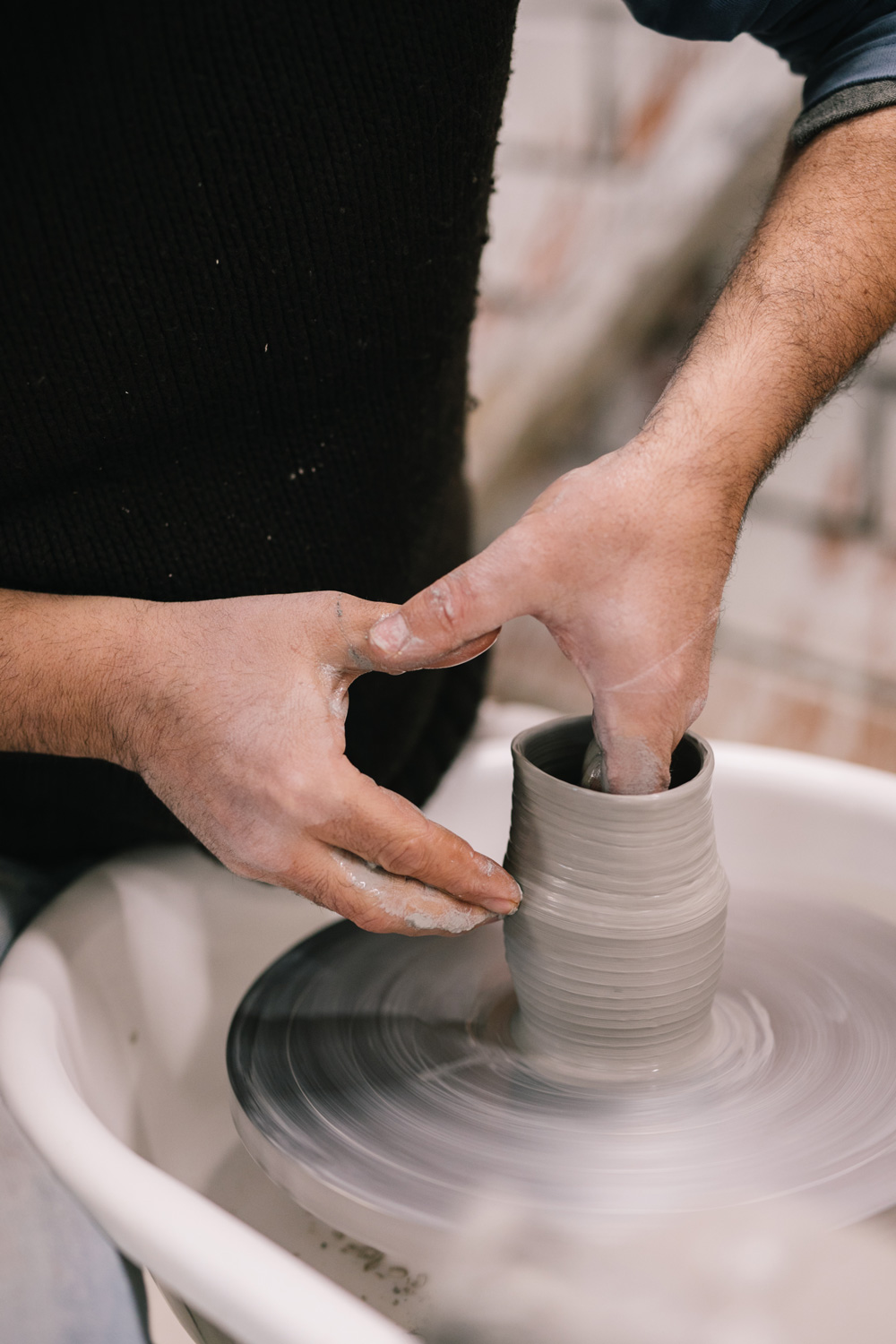 What are your inspiration sources? You do a creative job, but are you always happy to work?
It's about technical abilities. Even if you don't feel for it, you can do things pretty well.
Inspiration is being built. Every single day things lead somewhere. You don't sit down, think of an idea, complete it in your mind and then say "this is the right time to make it happen". You just gain experience by doing.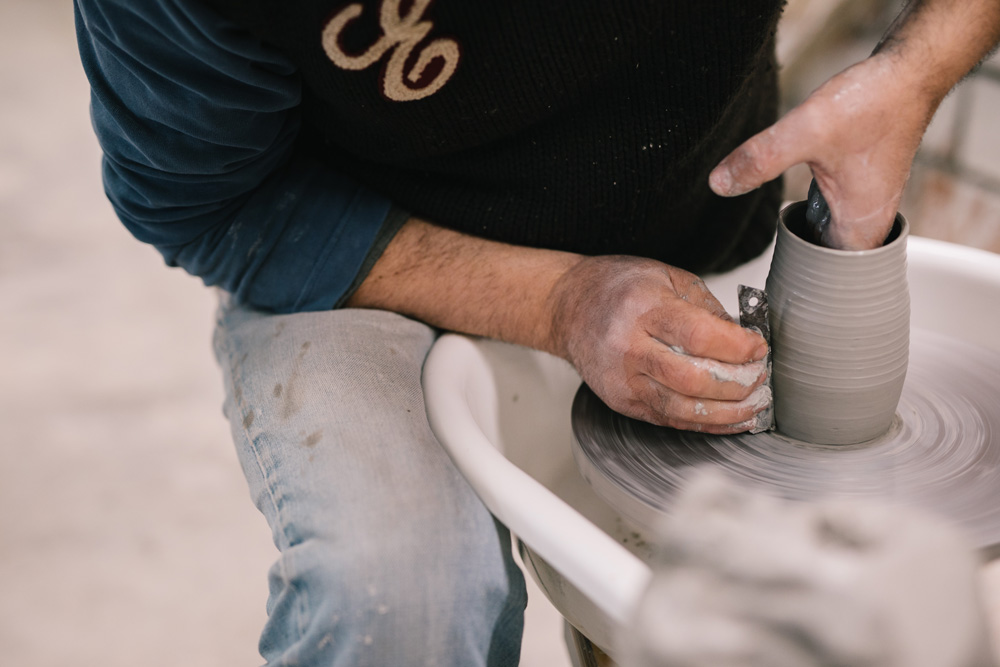 Hands do, mind goes a bit further, some of the thoughts stay and some of them are forgotten.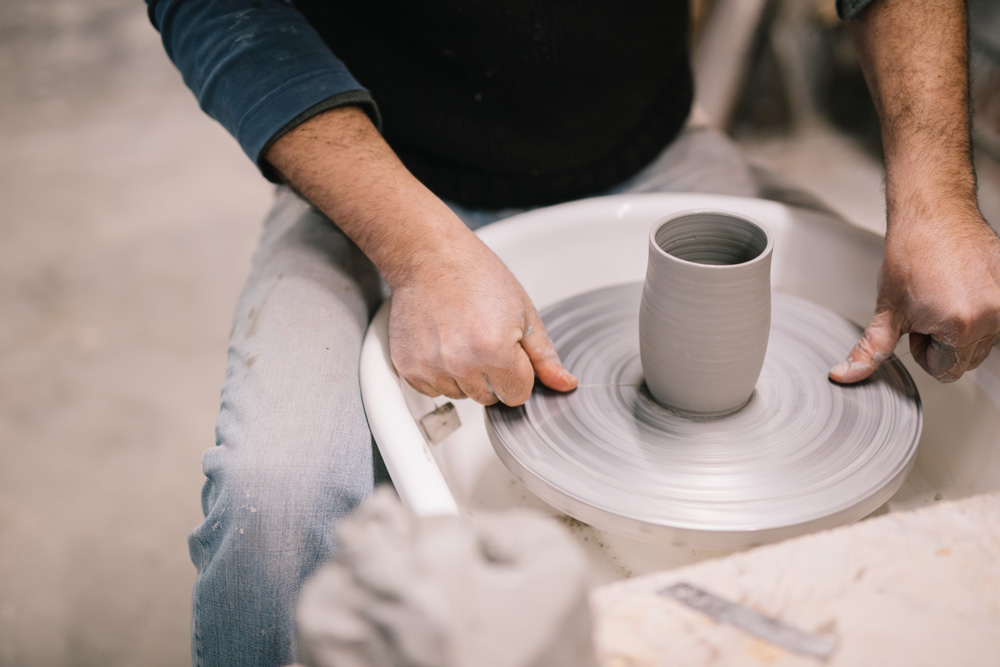 The work you've been already doing, that's your planning for the next ones.
We do not go to a warm place, sit down and think of the designs of the new year. Over the years the experience comes and makes it all clear. Then, you know what's the right time to try something new.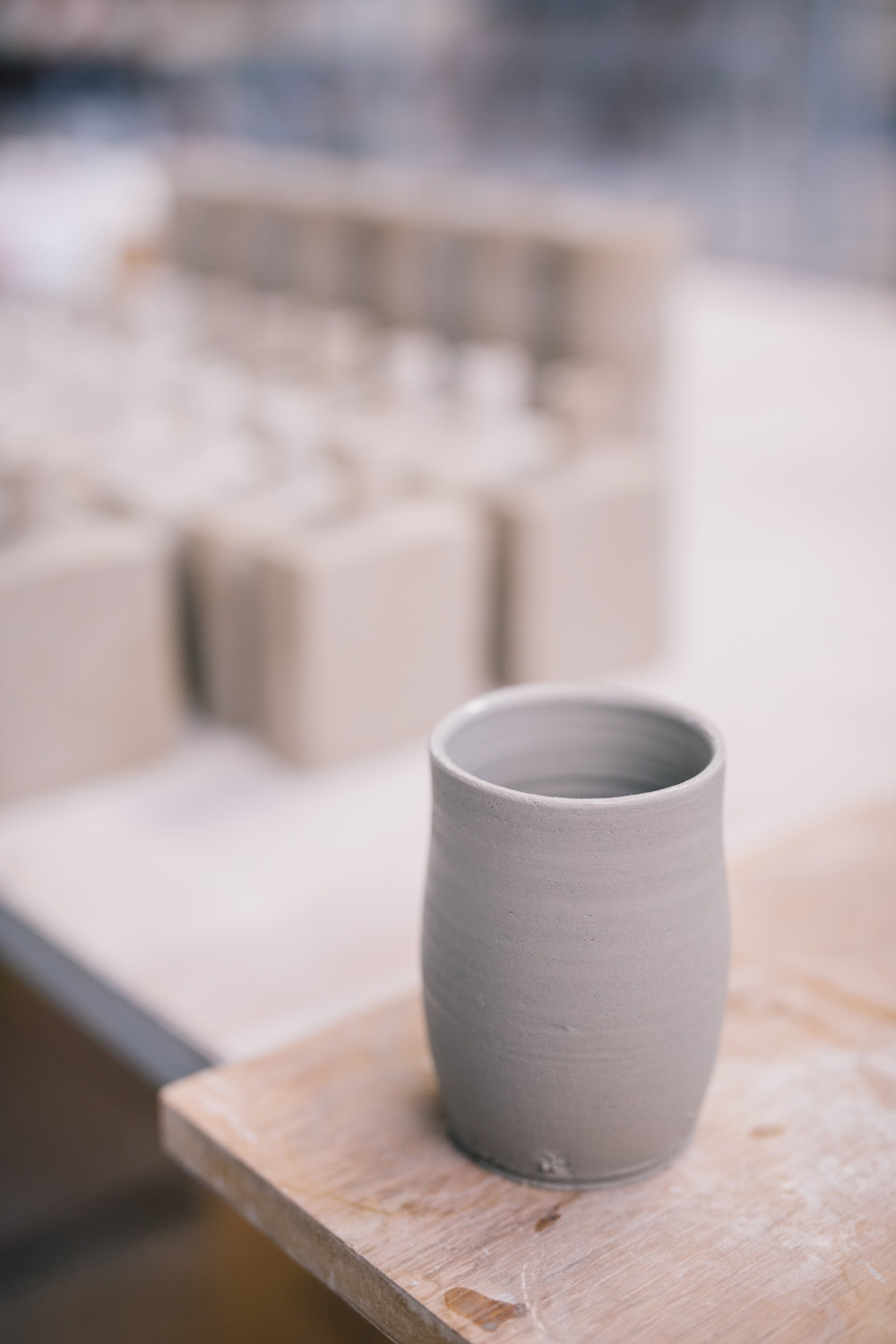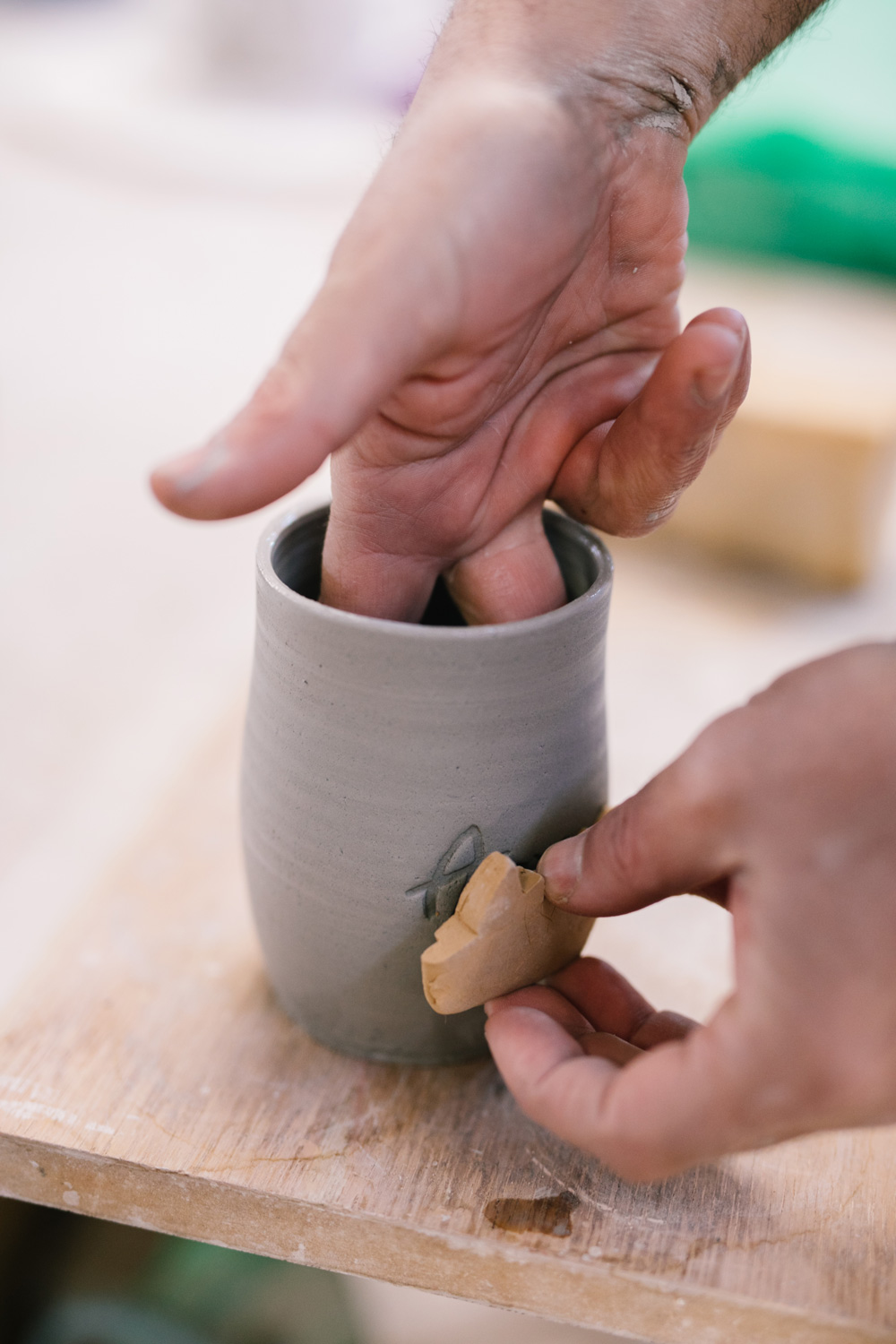 What is your dream project?
We have achieved our first goal, to have different spaces to do different things, to be able to constantly change places, to be in motion.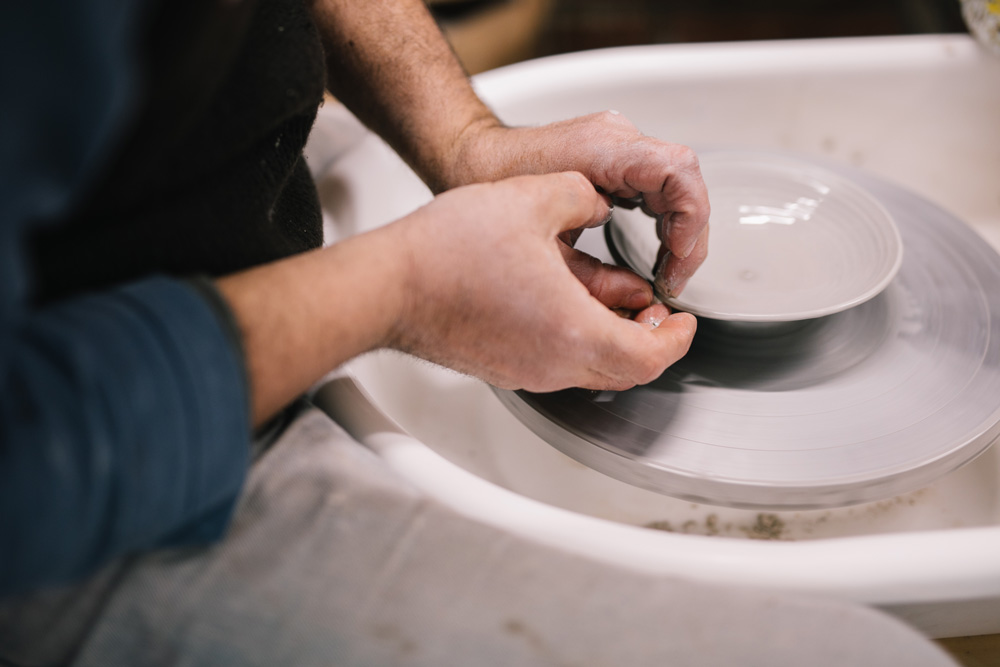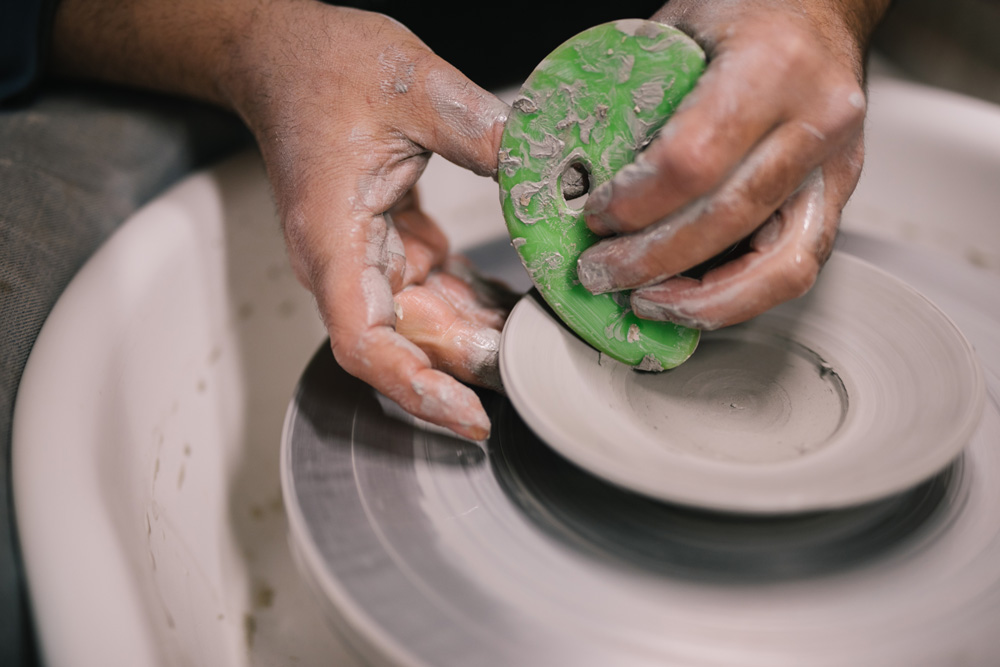 The dream project is to go backwards. At some point, we have to gather all these things in a small space, far away from here, in a small workshop that will serve the way of life I will like to follow at that period of time.
Less. That's the dream project.
Cause now there's too much. You get up in the morning and go to work from morning till night, in 3 different places and at the end of the day you think about the work that you do and it's ceramics. It's funny. I play with mud, why do I run from one side of the city to the other?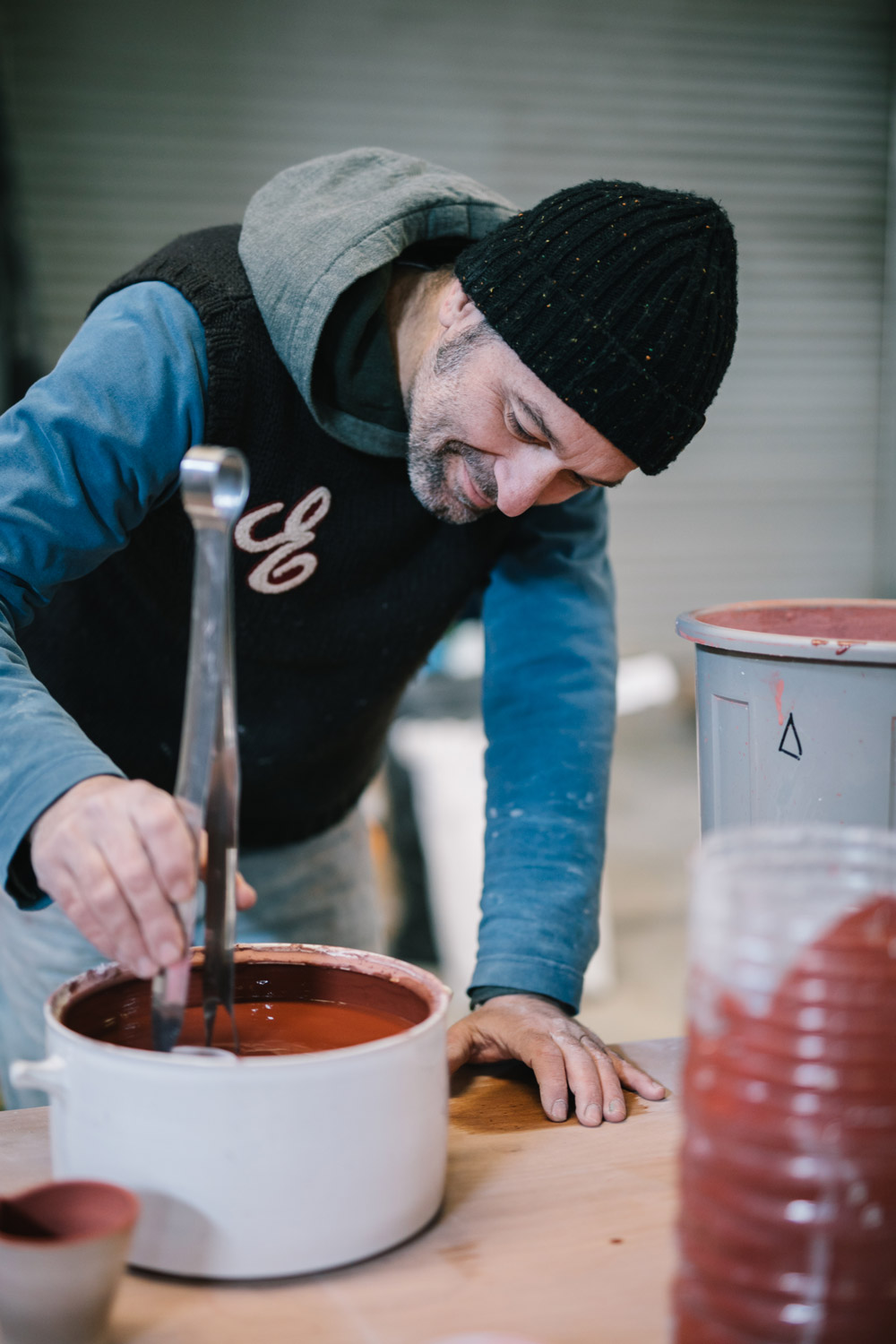 How people interact with your exhibition space?
They don't. We are building something from scratch with our yeast to be our students.
For now it's only a personal space, where we are searching of how we can have fun by playing with the space, organising good stuff etc.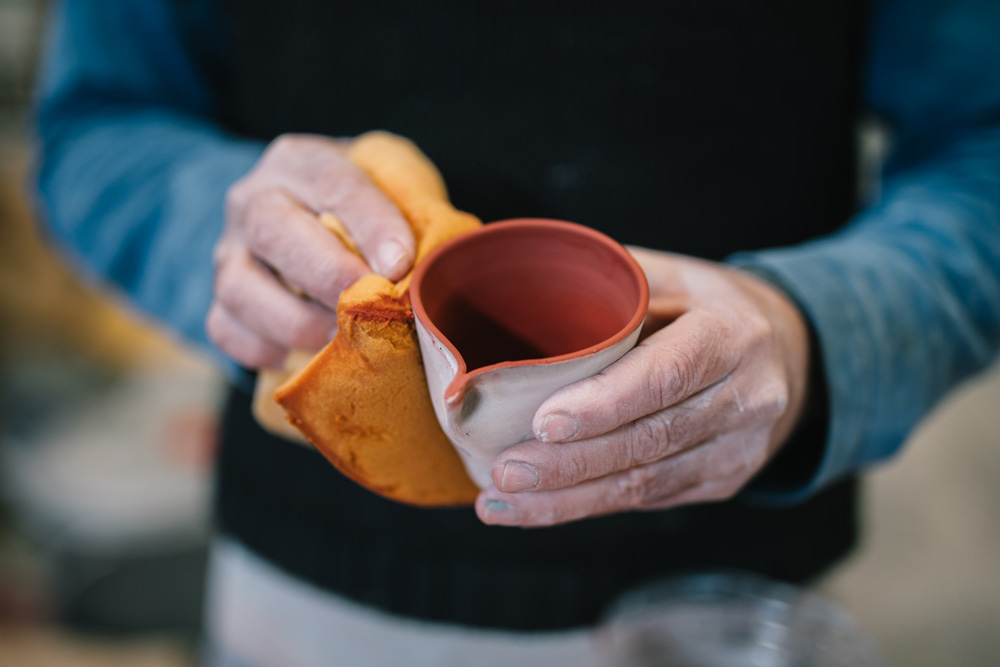 What would you advise young people who want to turn their hobby into an actual job?
Just do it at any cost. Money have to bring you something so you can do something else with.
Ceramics is a way of life. You're just doing it all day long, it never ends, it doesn't stop at some point of the day and then you dress well and do other stuff.
In ceramics, you can't really go that far, the evolution is kind of expected.
Every morning you will always have the same worry, no matter what – to open the kiln door and see what's happened.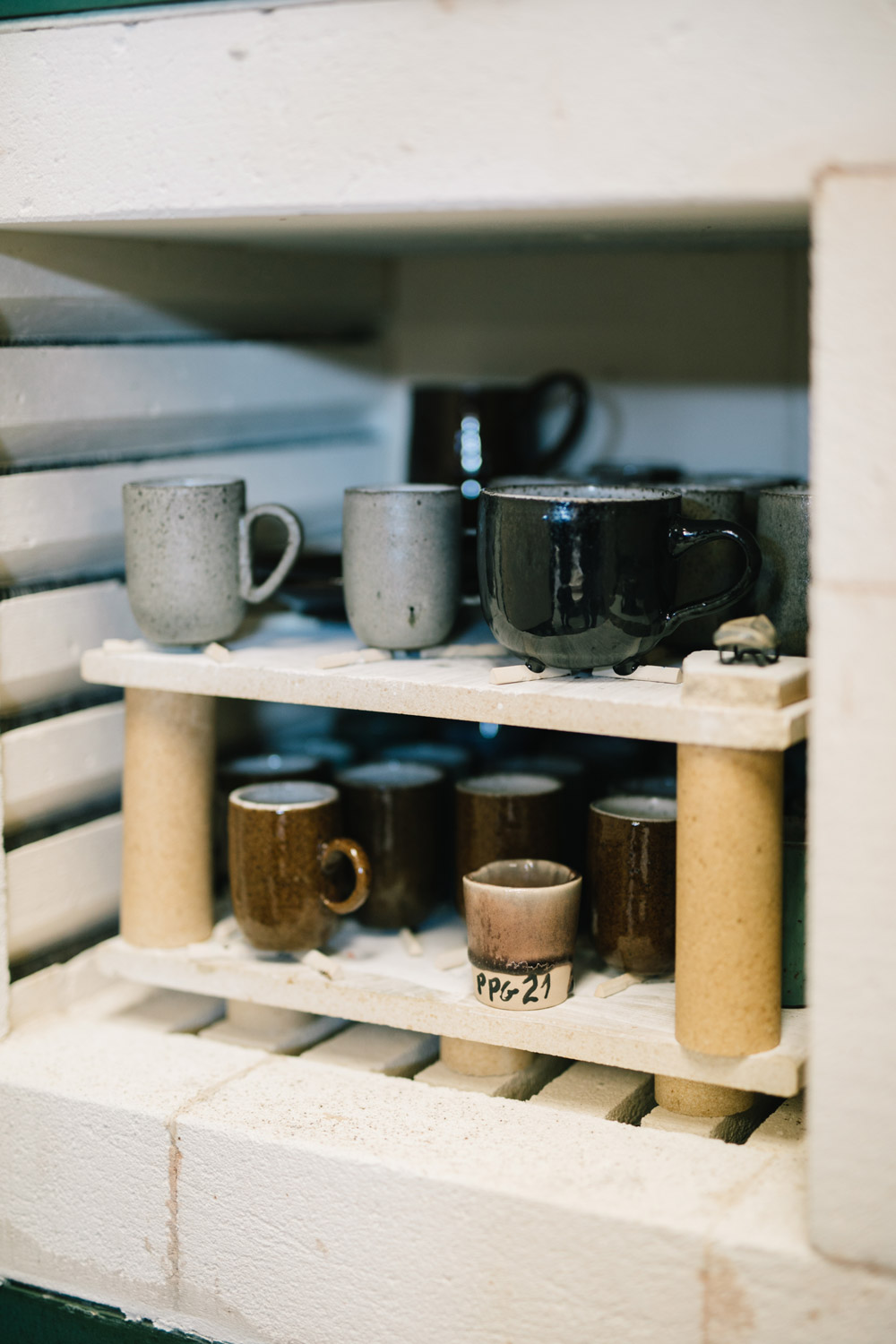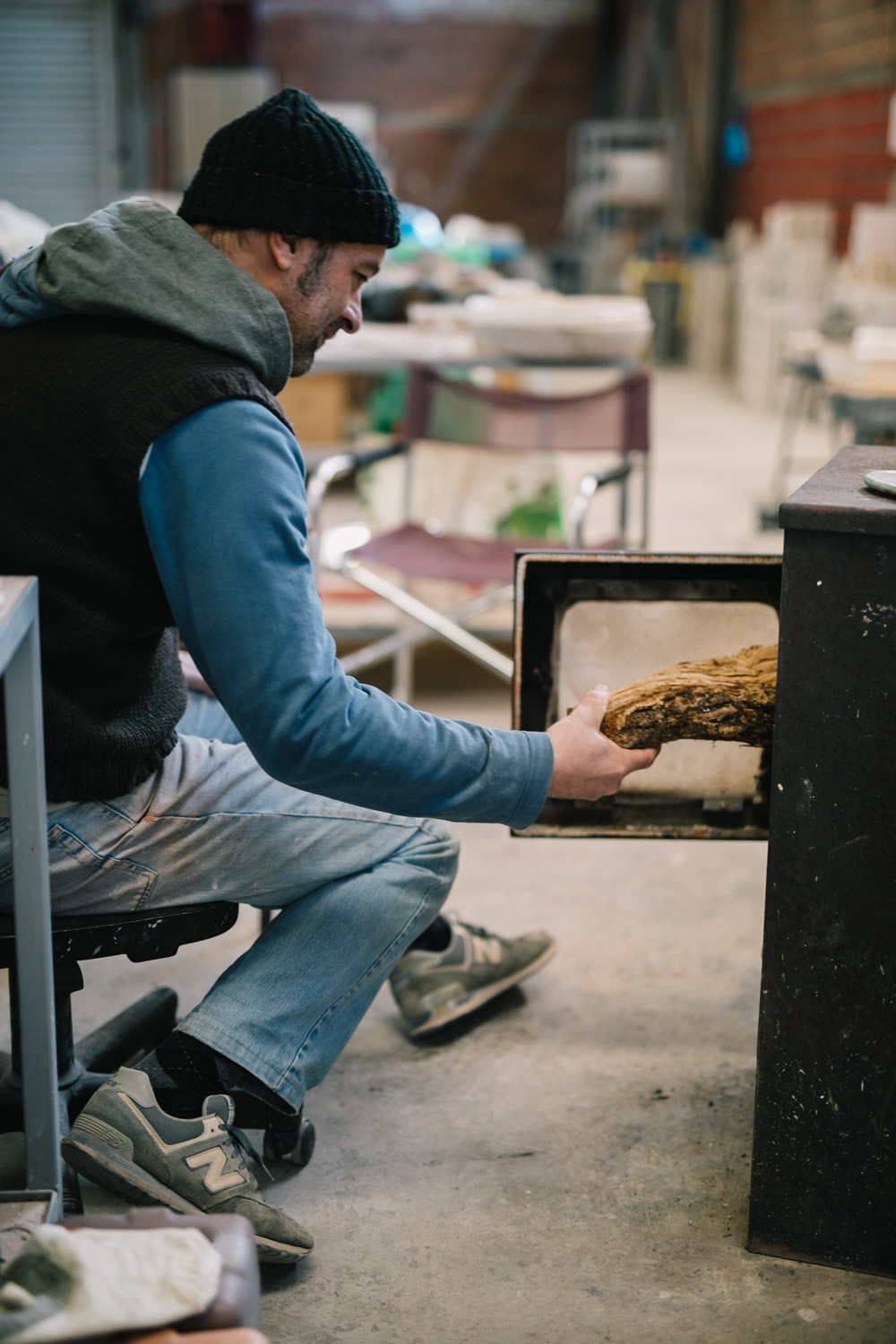 I don't really know how an artwork can be translated into money. There is no magic recipe.